Details
Start point
The kitchen, deep in the Troll Stronghold. Talk to Burntmeat.
Official difficulty
Intermediate
Description
Trolls love goutweed. They love it so much that they've picked it all, and now they can't get any more. However, in his smelly kitchen in the Troll Stronghold, Burntmeat the cook has heard a rumour that goutweed is growing once again, for anyone who's got the skill to farm it. Can you teach his young assistant - a simple troll known as My Arm - to grow the precious goutweed? Will you overcome My Arm's stubbornness and ignorance to earn yourself Burntmeat's reward? Dare you accompany My Arm on this uniquely trollish expedition?
Length
Medium
Requirements
Items required

Note: There is a Tool leprechaun near the goutweed patch. So just make sure you have the rake, seed dibber and spade along with 7 supercompost in your leprechaun.

Recommended:

Enemies to defeat
Walkthrough
The adventurer
Go to the Troll Stronghold, head south then downstairs into the kitchen (If you've completed the Druidic Ritual Quest then you can use the fairy ring code A*J*R and enter from the back through the secret door where you freed the prisoners).
Speak to Burntmeat.
Talk to My Arm, east of Burntmeat.
Getting the goutweed
Reach the Death Plateau. (Games necklace)
Use a bucket on the cooking pot in the middle of the plateau (Make sure to have atleast 1 free inventory space). There's a bucket south of the cooking pot.
Go back to the Troll Stronghold and talk to My Arm (either run to the stronghold or use fairy ring method from first step).
After he brings you to a new area, talk to him again.
After reading the book he gave you, talk to him again.
Use three buckets of Ugthanki dung and seven buckets of supercompost on the soil patch.
Talk to My Arm.
Talk to Captain Barnaby.
Getting the tubers
Meet up with My Arm at Tai Bwo Wannai, east of the general store.
Talk to Murcaily near the hardwood grove. Make sure you have at least 1 free inventory space.

If you don't have 60% favour, raise it to 60% at least and talk to him again (you can't start the quest if you don't have 60% favour).

After the cutscene speak to My Arm.
Teaching a troll to farm
Prepare yourself for a level 75 fight and a level 172 fight.
Go back to the roof of the Troll Stronghold.
Give My Arm the tools he needs for farming this order:
Talk to My Arm.
Defeat the two monsters. Beware the boss fight takes place in an instance; therefore, you cannot go back to get your items after dying.
The end
Talk to My Arm.
Give him a spade (if you don't have one, you can go back down and up the ladder to get the leprechaun to reappear).
Go back to Burntmeat in the kitchen.
Talk to My Arm on the roof.
Quest complete!
Reward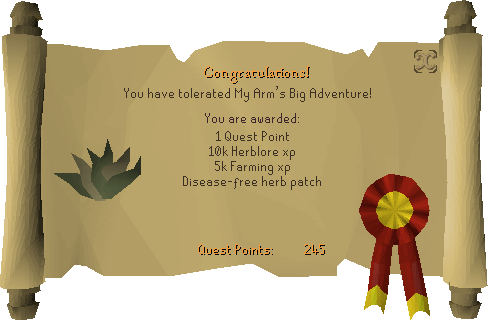 Required for completing
NPCs

Burntmeat • Adventurer • My Arm • Captain Barnaby • Murcaily • Jagbakoba • Larry • Drunken Dwarf's Leg • Ali the Camel • Ash • Dung • Qutiedoll

Enemies

Items

 Goutweed •  Goutweedy lump •  Farming manual •  Hardy gout tuber •  Hardy gout tubers

Locations

Music

Related

Quick Guide
Community content is available under
CC-BY-SA
unless otherwise noted.