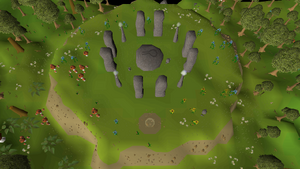 The Nature altar may be found northeast of Shilo Village. It is used to craft nature runes from pure essence, providing 9 Runecrafting experience. 
Access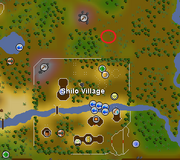 As with most other runecrafting altars, it can be accessed via the Abyss. Players could also enter its ruins by using a nature talisman or a Nature tiara.
Experience
The maximum likely limit for crafting Nature runes in one visit is 108. This would be achieved by having 91 Runecrafting, giving a 2x bonus, and carrying 54 essence to craft (24 in the normal inventory along with 30 in the 4 sizes of Runecrafting pouches. The maximum possible experience is 486 obtained while doing the above.
Tiaras
A nature tiara may be created at this altar by having a nature talisman and a normal tiara in your inventory. The player must use the tiara on the altar. Doing so will earn 45 Runecrafting experience.
Runecrafting altars

 Air •  Mind •  Water •  Earth •  Fire •  Body •  Cosmic •  Chaos •  Astral •  Nature •  Law •  Death •  Blood •  Soul •  Wrath • Ourania

Talismans

 Air •  Mind •  Water •  Earth •  Fire •  Body •  Cosmic •  Chaos •  Nature •  Law •  Death •  Blood •  Soul •  Wrath •  Elemental

Tiaras

 Basic •  Air •  Mind •  Water •  Earth •  Fire •  Body •  Cosmic •  Chaos •  Astral •  Nature •  Law •  Death •  Blood •  Soul •  Wrath

Pouches

Essence