No Man's Sky Update - The Loop
Play Sound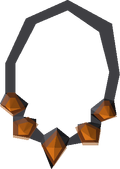 The necklace of anguish is an enchanted zenyte necklace that requires at least 75 Hitpoints to equip. It is purely offensive, offering the highest Ranged attack bonus, as well as being the only neck slot item to offer a Ranged Strength bonus.
Players can make one by enchanting a zenyte necklace with the Lvl-7 Enchant spell. This requires level 93 Magic, 20 soul runes, 20 blood runes, and 1 cosmic rune and grants 110 Magic experience.
Players can attach an anguish ornament kit, obtained from master clue scrolls, to create a necklace of anguish (or). This is only cosmetic, and does not affect the necklace's stat bonuses. It can be dismantled, returning the necklace and ornament kit.
Trivia
In the original Developer's Blog, it was proposed that zenyte jewellery, in addition to its stats, would provide a passive healing effect provided that it was charged with a cut onyx[1]. Charged zenyte jewellery equipped would have a 10% chance of healing 5% of the damage dealt to a target. This effect would last for 10,000 successful hits, which when depleted would return the zenyte jewellery to its uncharged state and would require another onyx to become charged again.This was polled in the Old School Content Poll #39, where it only received 69.1% votes in favour, 5.9% short of passing the poll.
This necklace looks similar to the reaper necklace in RuneScape 3.
This necklace is one of the few non-ammo slot items to provide a range strength bonus, along with the heavy ballista and Ava's assembler.
References
Crafted

 Gold •  Opal •  Sapphire •  Jade •  Emerald •  Topaz •  Ruby •  Diamond  Dragonstone •  Onyx •  Zenyte

Enchanted

 Dodgy •  Games •  Passage •  Binding •  Faith •  Digsite •  Phoenix •  Skills •  Berserker •  Anguish (or)

Other

 Brass •  Clean •  Occult (or) •  'perfect' •  Silver •  Stolen family heirloom