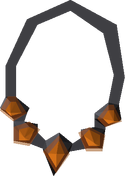 The necklace of anguish is an enchanted zenyte necklace. It is the best-in-slot ranged necklace and the only necklace to provide both ranged attack and strength.
Wearing any piece of enchanted zenyte equipment requires level 75 in hitpoints.
Trivia
In RuneScape 3, Anguish is the name of the Ranged variant of Turmoil.
Jewellery
Enchanted jewellery

 Necklace of anguish (or) •  Amulet of torture (or) •  Ring of suffering (imbued) •  Tormented bracelet
Crafted

 Gold •  Opal •  Sapphire •  Jade •  Emerald •  Topaz •  Ruby •  Diamond  Dragonstone •  Onyx •  Zenyte

Enchanted

 Dodgy •  Games •  Passage •  Binding •  Faith •  Digsite •  Phoenix •  Skills •  Berserker •  Anguish (or)

Other

 Brass •  Clean •  Occult (or) •  'perfect' •  Silver •  Stolen family heirloom