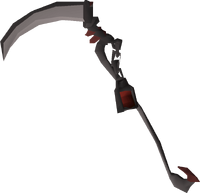 The Scythe of vitur is a two-handed slash weapon requiring 75 Attack and Strength to wield, available as a rare drop from the Theatre of Blood.
The scythe can hit up to three enemies once in a 1x3 arc in front of the player. Each hit can also hit large creatures (a target that takes up two or more game squares) up to three times in the same attack. The first hit deals 100% damage, the second deals 50% and the third deals 25%.
The scythe can only hit a maximum of three NPCs, and can only hit a maximum of three times. Each attack, regardless of which enemy is the player's primary target, is rolled independently based on their attack bonuses versus the NPCs defence bonuses.