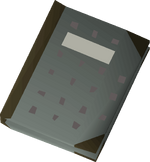 The Necromancy book is used during the Zogre Flesh Eaters quest. It is found in the room of Sithik Ints, in the cupboards. Using the Torn page on the book reveals that the torn page comes from this book.
When used on Sithik, he initially claims to not be sure why it is in the room, then later claims it is for his research, isn't dangerous unless it falls into the wrong hands, and is pretty safe with him.
Transcript
| | | |
| --- | --- | --- |
| " | This book uses very strange language and some incomprehensible symbols. It has a very dark and evil feeling to it. As you're looking through the book, you notice that one of the pages has been torn and half of it is missing. | " |
NPCs

Grish • Zavistic Rarve • Sithik Ints • Bartender • Brentle Vahn • Slash Bash • Zombie • Ogre guard • Zogre • Skogre

Items

 Ruined backpack •  Dragon inn tankard •  Torn page •  Black prism •  Strange potion  Cup of tea •  Unstrung comp bow •  Comp ogre bow •  Ogre arrow shaft •  Flighted ogre arrow •  Ogre gate key •  Ogre artefact •  Ogre coffin key •  Rogue's purse potion (unf) •  Relicym's Balm

Books

 Portraiture •  Necromancy •  H.A.M.

Sithik Portraits

Locations

Related
Community content is available under
CC-BY-SA
unless otherwise noted.