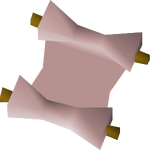 The Note is an item that players find whilst burgling the home of Ali the Mayor in Pollnivneach as part of The Feud. It includes the first part of the combination to the safe in the mayor's home.
The combination is the series of Fibonacci numbers starting after zero, though the note only lists the first five, and the player must deduce the last number required. A hint is provided in the other note found during the quest.
Transcript
"
These numbers contained within,
A sequence age old begin,
Have a look,
Where do they fit in?
1,1,2,3,5....
"
NPCs

Ali Morrisane • Ali the Camel Man • Ali the Camel • Ali the Operator • Ali the Hag • Ali the Kebab seller • Ali the Mayor • Street urchin • Traitorous Ali • Ali the Barman • Ali the Snake Charmer • Bandit • Desert snake • Drunken Ali • Menaphite Thug • Villager

Enemies

Menaphite Leader • Bandit Leader • Tough Guy • Bandit champion

Items

 Keys •  Jewels •  Note (numbers) •  Note (Fibonacci) •  Kharidian headpiece •  Fake beard •  Desert disguise •  Receipt •  Hag's poison •  Red hot sauce •  Ugthanki dung •  Snake charm •  Snake basket •  Oak blackjack •  Willow blackjack •  Snake basket full •  Super kebab •  Karidian disguise

Locations

Miscellaneous
Community content is available under
CC-BY-SA
unless otherwise noted.