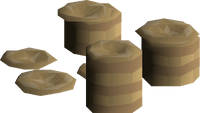 Numulites are a form of currency used on Fossil Island. They are obtained from doing just about anything on Fossil Island, such as chopping sulliusceps, tracking herbiboars, using a trowel on the soils east of the Museum Camp, and opening chests and clams in the Mermaid's domain. They can also be obtained by trading fossils with the Fossil Collector. An equipped ring of wealth will automatically pick up numulite drops from killed monsters.
Uses
Dropping monsters
Trivia
Numulites are based on nummulite, a type of lens-shaped fossil used as currency in ancient Egypt.
Tradeable

 Coins •  Archery tickets •  Numulites •  Platinum tokens •  Survival tokens •  Trading sticks

Untradeable

 Agility arena tickets •  Blood money •  Castle wars tickets •  Ecto-tokens •  Frog tokens •  Golden nuggets •  Glistening tears •  Marks of grace •  Mermaid's tears •  Paramaya tickets •  Pieces of eight •  Reward token •  Tokkul •  Unidentified minerals •  Warrior guild tokens

Virtual

Bounty Hunter points • Honour points • Nightmare Zone reward points • Pizazz points • Slayer reward points • Void Knight commendation points
Community content is available under
CC-BY-SA
unless otherwise noted.