GTA: The Criminal Enterprises - The Loop
Play Sound

Nurse Wooned is an NPC who resides in Shayzien House's infirmary in Great Kourend. She will ask that the player help her obtain shayzien medpacks in order to heal the soldiers.
Her name is a joke on "wound".
Treasure Trails
Nurse Wooned is the solution to the elite anagram clue: OUR OWN NEEDS. The answer to her challenge clue is 19.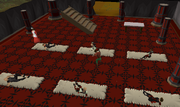 Arceuus House

Arcis • Aretha • Batt Mellamy • Clerris • Dark wizard • Enoch • Freald • Loinur • Look-out • Mofina • Novice • Ouditor • Rassain • • Sister Soul Jar • Tower Mage • Trossa • Tyss

Shop owners

Grand Library

Archeio • Biblia • Galana • Horphis • Logosia • Professor Gracklebone • Sam • Villia • Wizard

Library Archive

Ektheme • Imerominia • Istoria • Krato • Logios • Meleti • Pagida

Hosidius House

Bologa • Butler Jarvis • Chef Olivia • Charlie Brown • Chief Farmer • Clerk • Estate agent • Ewesey • Farmer's wife • Farmer Gricoller • Farmer Hayfield • Father Jean • Gallow • Gruff McScruff • Hopleez • Hosa • Johnathan • Konoo • Lammy Langle • Marisi • Ramocean • Servery assistant • Sandicrahb • Smoggy • Talia • Traxi • Watson

Lord's family

Artur Hosidius • Lord Kandur Hosidius • Elena Hosidius • Pandur Hosidius

Shop owners

Woodcutting Guild

Berry • Forester • Guildmaster Lars • Kai • Murfet • Nesty • Perry

Lovakengj House
Piscarilius House

Billy • Captain Janaway • Captain Khaled • Conrad King • Dock worker • Dockmaster • Fisherman • Nicholas • Patrolman • Patrolwoman • Piliar • Poor looking man • Poor looking woman • Port Official • Port worker • Raeli • Robert O'Reilly • Tomas Lawry • Veos

Shop owners

Travellers

Alexander • Andrea • Charles • Cheryl • Darren • Dobwinkle • Elizabeth • Mark • Melvin • Ross and Ben • Sarah • Simon

The Warrens

Devan Rutter • Fish monger • Lady Shauna Piscarilius • Shop keeper

Shayzien House

Grave digger • Jennifer • Lord Shiro Shayzien • Mogrim • New recruit Tony • Osten • Phileas Rimor • Shayda • Quartermaster Briget • Drill instructor

Captains

Nurses

Soldiers

Other locations

| | |
| --- | --- |
| Kourend Catacombs | |
| Land's End | |
| Mount Quidamortem | Captain Rimor • Gnosi • Historian Duffy • Mountain Guide • Natural Historian • Stuliette |
| Other | Cob • Captain Cleive • David Andrews • Knight of Varlamore • Martin Holt • Protesters • Rakkar • Reginald • Roy jr. • Sophia Hughes • Swamp Priest |