World of Warcraft: Dragonflight - The Loop
Play Sound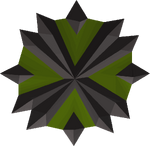 The odium ward is a range-class shield that requires at least 60 Defence to wield. It offers the third best ranged attack bonus for the shield slot in the game, succeeded by the dragonfire ward and the twisted buckler.
Players can use a ward upgrade kit, obtained from the Bounty Hunter Store, to cosmetically enhance the odium ward, creating an odium ward (or). This only alters its appearance, and becomes untradeable. It can be reverted, but the kit will not be returned.
Creating the ward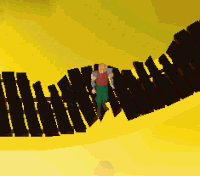 The ward is created from three components: the odium shard 1, 2, and 3, dropped by the Chaos Fanatic, Crazy archaeologist, and Scorpia, respectively.
When all three shards are present in the players inventory, they must travel to the Volcanic Forge on the most north-eastern part of the wilderness to forge the ward.
Headgear

 Void (+0) •  Cowl (+1) •  Coif (+2) •  Slayer helmet (i) (+3) •  Snakeskin (+4) •  Spined (+6) •  Archer helm (+6) •  Ranger hat (+6) •  Blessed (+7) •  Karil's (+7) •  Robin hood hat (+8) •  Third-age (+9) •  Armadyl (+10) •  Morrigan's (+13)

Bodies

 Void (+0) •  Leather (+2) •  Hardleather (+8) •  Studded(t)(g) (+8) •  Frog-leather (+10) •  Snakeskin (+12) •  Rangers' (+15) •  Spined (+15) •  Green d'hide(t)(g) (+15) •  Blue d'hide(t)(g) (+20) •  Red d'hide(t)(g) (+25) •  Black d'hide(t)(g) (+30) •  Blessed (+30) •  Third-age (+30) •  Karil's (+30) •  Armadyl (+33) •  Morrigan's (+36)

Legwear

 Void (+0) •  Frog-leather (+2) •  Leather (+4) •  Snakeskin (+6) •  Studded(t)(g) (+6) •  Green d'hide(t)(g) (+8) •  Spined (+8) •  Yak-hide (+10) •  Blue d'hide(t)(g) (+11) •  Red d'hide(t)(g) (+14) •  Penance skirt (+15) •  Black d'hide(t)(g) (+17) •  Blessed (+17) •  Third-age (+17) •  Karil's (+17) •  Armadyl (+20) •  Morrigan's (+23)

Vambraces

 Void (+0) •  Spined (+0) •  Hardleather (+1) •  Bronze (+2) •  Iron (+3) •  Steel (+4) •  Leather(spiked) (+4) •  Black (+5) •  Mithril (+6) •  Snakeskin (+6) •  Combat bracelet (+7) •  Regen bracelet (+7) •  Adamant (+7) •  Rune (+8) •  Green d'hide(spiked) (+8) •  Dragon (+9) •  Blue d'hide(spiked) (+9) •  Red d'hide(spiked) (+10) •  Black d'hide(spiked) (+11) •  Blessed (+11) •  Third-age (+11) •  Ranger (+11) •  Barrows (+12)

Boots

 Spined (+0) •  Frog-leather (+2) •  Snakeskin (+3) •  Blessed (+7) •  Ranger (+8) •  Pegasian (+12)

Capes

 Ranging (+0) • Fire cape (+1) • Infernal cape (+1) •  Ava's attractor (+2) •  Ava's accumulator (+4) •  Ava's assembler (+8)

Amulets

 Accuracy (+4) •  Power (+6) •  Glory (+10) •  Fury (+10) •  Anguish (+15)

Rings

 Archers (+4) •  Archers (i) (+8)

Shields

 Hard leather (+2) •  Snakeskin (+3) •  Green d'hide (+4) •  Book of balance (+4)•  Blue d'hide (+5) •  Red d'hide (+6) •  Black d'hide (+7) •  Unholy book (+8) •  Book of law (+10) •  Odium ward (+12) •  Dragonfire ward (+15) •  Twisted buckler (+18)
Bosses

Callisto • Chaos Elemental • Chaos Fanatic • Crazy archaeologist • King Black Dragon
Scorpia (Offspring)(Guardian) • Venenatis • Vet'ion (Skeleton Hellhound) (Greater Skeleton Hellhound)

Other monsters

Elder Chaos druid • Ent • Green dragon • Lava dragon • Mammoth • Revenant • Runite Golem

Rewards

Shields

 Malediction ward(or) • (Shard 1) • (Shard 2) • (Shard 3)
 Odium ward(or) • (Shard 1) • (Shard 2) • (Shard 3)

Rings

 Ring of the gods (imbued) •  Treasonous ring (imbued) •  Tyrannical ring (imbued)

Boss pets

 Prince black dragon •  Pet chaos elemental •  Callisto cub
 Venenatis spiderling •  Vet'ion jr. •  Scorpia's offspring

Other

 Fedora •  Dragon pickaxe •  Amulet of eternal glory •  Wilderness Rogues' Chests •  Ancient crystal •  Ancient artefacts •  Mysterious emblem