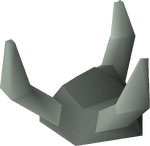 The ogre artefact is a sacred item to the ogres of Gu'Tanoth, and is requested to be retrieved by Grish during the Zogre Flesh Eaters quest. It is dropped by a level 111 zogre named Slash Bash, who appears to be wearing the artefact as a helmet prior to being slain.
NPCs

Grish • Zavistic Rarve • Sithik Ints • Bartender • Brentle Vahn • Slash Bash • Zombie • Ogre guard • Zogre • Skogre

Items

 Ruined backpack •  Dragon inn tankard •  Torn page •  Black prism •  Strange potion  Cup of tea •  Unstrung comp bow •  Comp ogre bow •  Ogre arrow shaft •  Flighted ogre arrow •  Ogre gate key •  Ogre artefact •  Ogre coffin key •  Rogue's purse potion (unf) •  Relicym's Balm

Books

Sithik Portraits

Locations

Related
Community content is available under
CC-BY-SA
unless otherwise noted.