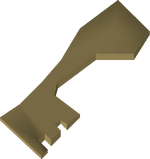 The ogre gate key is obtained from Grish toward the end of the quest Zogre Flesh Eaters to gain entrance to the Ogre's ceremonial chamber in Jiggig.
If lost during the quest, the player can get another key from Grish. This key cannot be placed onto the steel key ring.
NPCs

Grish • Zavistic Rarve • Sithik Ints • Bartender • Brentle Vahn • Slash Bash • Zombie • Ogre guard • Zogre • Skogre

Items

 Ruined backpack •  Dragon inn tankard •  Torn page •  Black prism •  Strange potion  Cup of tea •  Unstrung comp bow •  Comp ogre bow •  Ogre arrow shaft •  Flighted ogre arrow •  Ogre gate key •  Ogre artefact •  Ogre coffin key •  Rogue's purse potion (unf) •  Relicym's Balm

Books

Sithik Portraits

Locations

Related
Community content is available under
CC-BY-SA
unless otherwise noted.