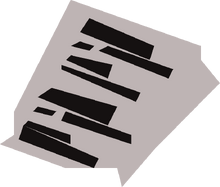 The old writing can be found by inserting 100 numulites into one of the stone chests inside the House on the Hill on Fossil Island. There is a chance nothing will happen or a spike shooting out and stabbing the player for 9 damage, wasting the numulites.
This note can be added into the Fossil island note book.
Transcript
I believe my presence here is causing unrest in the creatures. Whilst at first they kept distance, they are beginning to display violently towards me, no doubt linked to the growing conflicts between their tribes. Perhaps I am a trophy to prove dominance? Nevertheless, they are not yet evolved to penetrate my skin.
Characters

Curator Haig Halen • Barge foreman • Sawmill operator • Barge guard • Lead Navigator • Junior Navigator • John • David • Jack Seagull • Ahab • Odd Old Man • Apothecary

Items

 Sawmill proposal •  Sawmill agreement •  Bone charm •  Potion of sealegs •  Fossil island note book

Notes

 Scribbled note •  Partial note •  Ancient note •  Ancient writings •  Experimental note •  Paragraph of text •  Musty smelling note •  Hastily scrawled note •  Old writing •  Short note

Locations

Music

Related
Community content is available under
CC-BY-SA
unless otherwise noted.