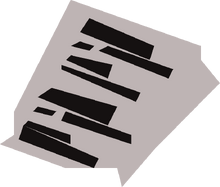 The paragraph of text can be found by inserting 100 numulites into one of the stone chests inside the House on the Hill on Fossil Island. There is a chance nothing will happen or a spike shooting out and stabbing the player for 9 damage, wasting the numulites.
This note can be added into the Fossil island note book.
Transcript
Despite several attempts, I have failed to find a way to encourage the spore to inhabit my own body. Ingestion, airborne saturation, each leads to involuntary, forceful expulsion and hallucinogenic stupor. Permanent damage will likely follow if I continue to experiment.
Characters

Curator Haig Halen • Barge foreman • Sawmill operator • Barge guard • Lead Navigator • Junior Navigator • John • David • Jack Seagull • Ahab • Odd Old Man • Apothecary

Items

 Sawmill proposal •  Sawmill agreement •  Bone charm •  Potion of sealegs •  Fossil island note book

Notes

 Scribbled note •  Partial note •  Ancient note •  Ancient writings •  Experimental note •  Paragraph of text •  Musty smelling note •  Hastily scrawled note •  Old writing •  Short note

Locations

Music

Related
Community content is available under
CC-BY-SA
unless otherwise noted.