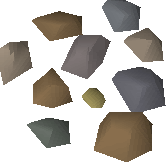 Pay-dirt is obtained whilst mining ore veins within the Motherlode Mine. Mining pay-dirt grants 60 Mining experience and requires a minimum Mining level of 30. Pay-dirt can be cleaned by depositing them into the hopper in the centre of the mine. Once cleaned players must search a sack to claim their ores, which is dependent on the player's Mining level. Pay-dirt cannot be deposited in the bank.
Players have a 7/255 (2.74%) chance of obtaining a golden nugget per pay-dirt[1], which can be used to purchase the prospector outfit from Prospector Percy's Nugget Shop.
What the pay-dirt becomes is determined at the time it is mined. If using a temporary boost, to try to get ore above your level, use the boost while mining, as opposed to using the boost at the hopper and sack.
References
↑ Jagex. Mod Ash's Twitter account. 8 Jun 2015. Mod Ash: "Sorry, I just rechecked. It's actually a flat rate of 2.74% at all levels for a paydirt to become a gold nugget."
Mining rocks and sources

Copper • Tin • Essence • Clay • Chocolate • Blurite • Limestone • Iron • Daeyalt • Elemental • Silver • Ash • Coal • Sandstone • Gold • Gem rocks • Granite • Mithril • Lunar • Lovakite • Adamantite • Runite • Amethyst

Ores

 Copper •  Tin •  Blurite •  Iron •  Daeyalt •  Elemental •  Silver •  Coal •  Gold •  Blasted •  Mithril •  Lunar •  Lovakite •  Adamantite •  Runite

Salts

Other mineables

 Clay •  Soft clay •  Chocolate chunks •  Pay-dirt •  Unidentified minerals •  Granite •  Limestone •  Soda ash •  Volcanic ash •  Sandstone • Uncut gem •  Rune essence •  Pure essence •  Dense essence block •  Volcanic sulphur •  Amethyst

Pickaxes

 Bronze •  Iron •  Steel •  Black •  Mithril •  Adamant •  Rune •  Dragon (or) •  Infernal