Raise a Floppa - The Loop
Play Sound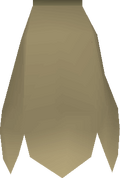 A penance skirt is a piece of armour that requires level 60 Ranged and level 40 Defence to wear. Players with 375 honour points in each of the four roles and who have killed the Penance Queen can purchase the skirt from Commander Connad, located on the main floor of the Barbarian Outpost.
The stats for the Penance skirt resembles those of the red dragonhide chaps; in comparison, the defence bonuses are slightly lower, but the ranged attack bonus is one point higher. The Penance skirt is usually used for cosmetic purposes or as a display of the wearer's skill, as it is significantly harder to obtain than chaps.
If the player dies below level 20 Wilderness, it will remain in the player's inventory. However, the item will be unusable and must be repaired with 20,000 coins by using the item on Perdu.
Game Details

Basics • Gameplay • Strategies • Rewards

NPCs

Captain Cain • Commander Connad • Private Paldo • Private Paldon • Private Pendron • Private Pierreb • Sergeant Sambur • Major Attack • Major Collect • Major Defend • Major Heal

Equipment

| | |
| --- | --- |
| Hats | |
| Armour |  Fighter torso •  Penance skirt •  Penance gloves •  Runner boots |

Penance

Gameplay items

| | |
| --- | --- |
| Attacker |  Icon •  Horn •  Bullet arrow •  Field arrow •  Blunt arrow •  Barbed arrow |
| Collector | |
| Defender | |
| Healer |  Icon •  Horn •  Healing vial •  Poisoned tofu •  Poisoned worms •  Poisoned meat |
| Penance Queen |  Queen help book •  Spikes •  Yellow egg •  Poisoned egg •  Spiked/pois. egg •  Omega egg |
Headgear

 Void (+0) •  Cowl (+1) •  Coif (+2) •  Slayer helmet (i) (+3) •  Snakeskin (+4) •  Spined (+6) •  Archer helm (+6) •  Ranger hat (+6) •  Blessed (+7) •  Karil's (+7) •  Robin hood hat (+8) •  Third-age (+9) •  Armadyl (+10) •  Morrigan's (+13)

Bodies

 Void (+0) •  Leather (+2) •  Hardleather (+8) •  Studded(t)(g) (+8) •  Frog-leather (+10) •  Snakeskin (+12) •  Rangers' (+15) •  Spined (+15) •  Green d'hide(t)(g) (+15) •  Blue d'hide(t)(g) (+20) •  Red d'hide(t)(g) (+25) •  Black d'hide(t)(g) (+30) •  Blessed (+30) •  Third-age (+30) •  Karil's (+30) •  Armadyl (+33) •  Morrigan's (+36)

Legwear

 Void (+0) •  Frog-leather (+2) •  Leather (+4) •  Snakeskin (+6) •  Studded(t)(g) (+6) •  Green d'hide(t)(g) (+8) •  Spined (+8) •  Yak-hide (+10) •  Blue d'hide(t)(g) (+11) •  Red d'hide(t)(g) (+14) •  Penance skirt (+15) •  Black d'hide(t)(g) (+17) •  Blessed (+17) •  Third-age (+17) •  Karil's (+17) •  Armadyl (+20) •  Morrigan's (+23)

Vambraces

 Void (+0) •  Spined (+0) •  Hardleather (+1) •  Bronze (+2) •  Iron (+3) •  Steel (+4) •  Leather(spiked) (+4) •  Black (+5) •  Mithril (+6) •  Snakeskin (+6) •  Combat bracelet (+7) •  Regen bracelet (+7) •  Adamant (+7) •  Rune (+8) •  Green d'hide(spiked) (+8) •  Dragon (+9) •  Blue d'hide(spiked) (+9) •  Red d'hide(spiked) (+10) •  Black d'hide(spiked) (+11) •  Blessed (+11) •  Third-age (+11) •  Ranger (+11) •  Barrows (+12)

Boots

 Spined (+0) •  Frog-leather (+2) •  Snakeskin (+3) •  Blessed (+7) •  Ranger (+8) •  Pegasian (+12)

Capes

 Ranging (+0) • Fire cape (+1) • Infernal cape (+1) •  Ava's attractor (+2) •  Ava's accumulator (+4) •  Ava's assembler (+8)

Amulets

 Accuracy (+4) •  Power (+6) •  Glory (+10) •  Fury (+10) •  Anguish (+15)

Rings

 Archers (+4) •  Archers (i) (+8)

Shields

 Hard leather (+2) •  Snakeskin (+3) •  Green d'hide (+4) •  Book of balance (+4)•  Blue d'hide (+5) •  Red d'hide (+6) •  Black d'hide (+7) •  Unholy book (+8) •  Book of law (+10) •  Odium ward (+12) •  Dragonfire ward (+15) •  Twisted buckler (+18)