(cleanup)

 

(5 intermediate revisions by one other user not shown)
Line 1:
Line 1:
 
+

{{Item

−

aaaaaaaaaaaaaaaaaaaaaaaaaaaaaaaaaaaaaaaaaaaa

 
 
+

| interwiki = {{External|rs}}

−

aaaaaaaaaaaaaaaaaaaaaaaaa

 
 
+

|name = Penguin bongos

−

aaaaaaaaaaaaaaaaaaaaaaaaaaaaaaa

 
 
+

|image = [[File:Penguin bongos.png]]

−

aaaaaaaaaaaaaa

 
 
+

|release = 29 January [[2007]]

−

aaaaaaaaaaaaaaaaaaaaaaaaaaaaaaaaaaaaaaaaaaaaaaaaaaaaaaaaaaaaaaaaaaaaaaaaaaaaaaaaaaaaaaaaaaaaaaaaaaaaaaa

 
 
+

|update = What's black and white and goes green when it's finished?

−

aaaaaaaaaaaaaaaaaaaaaaaaaaaaaaaaaaaaaaaaaaaaaaaaaaaaaaaaaaa

 
 
+

|members = Yes

−

aaaaaaa

 
 
+

|quest = [[Cold War]]

−

aaaaaaaaaaaa

 
 
+

|tradeable = No

−

aaaaaaaaaaaaaaaaaaaaaaaaaaaaaaaaaaaaaaaaaaaa

 
 
+

|equipable = No

−

aaaaaaaaaaaaaaaaaaaaaaaaaaaaaaaaaaaaaaaaaaaaaaaaaaaaaaaaaaaaaaaaaaaaaaaaaa

 
 
+

|stackable = No

−

aaaaaaaaaaaaaaaaaaaaaaaaaaaaaaaaaaaaaaaaaaaaaaaaaaaaaaaaaaaaaaaaaaaaaaaaaaaaaaaaaaaaaaaaaaaaaaaaaaaaaaaaaaaaaaa

 
 
+

|high = No

−

aaaaaaaaaaaaaaaaaaaaaaaaaaaaaaaaaaaaaaaaa

 
 
+

|low = No

−

aaaaaaaaaaaaaaaaaaa

 
 
+

|value = 1

−

aaaaaaaaa

 
 
+

|destroy = Drop

−

aaaaaaaaaaaaaaaaaaaaaaaaaaaaaaaa

 
 
+

|store = No

−

aaaaa

 
 
+

|examine = Small drums.

−

aaaaaaaaaaaaaaaaaaaaaaaaaaaaaaaaaaaaaaaaaaaaaaaaaaaaaaaaaaaaaaaaaaaaa

 
 
+

|weight = 2

−

aaaaaaaaaaaaaaaaaaaa

 
 
+

}}

−

aaa

 
 
+

[[File:Penguin bongos detail.png|left|180px]]

−

aaaaaaaaaaaaa

 
 
+

'''Penguin bongos''' are a quest item made and used in the [[Cold War]] [[quest]].

−

aaaa

 
 
+
−

aaaa

 
 
+

They are made by using a [[mahogany plank]] with [[soft leather]]. During the quest, they are given to the penguin [[Ping]]. Afterward, it is possible to make them again, and play them while dressed as a penguin.

−

aaaaaaaaaaaaaaaaaaaaaaaaaaaaaaaaaaaaaaaaaaaaaaaaaaaaaaaaaaaaaaaaa

 
 
+

[[File:Penguin bongos.gif|thumb|200px|left|A player playing the Penguin bongos.]]

 
+
 
+

{{Music}}

 
+

{{Cold War}}
---
Latest revision as of 11:51, 28 July 2019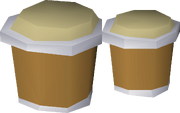 Penguin bongos are a quest item made and used in the Cold War quest.
They are made by using a mahogany plank with soft leather. During the quest, they are given to the penguin Ping. Afterward, it is possible to make them again, and play them while dressed as a penguin.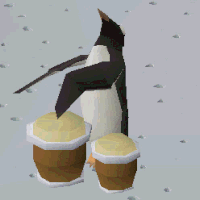 Game-related
List of music tracks

List of boss music • List of all music tracks • List of music in chronological order • Unlisted music tracks

Official Soundtracks

RuneScape: Original Soundtrack Classics • RuneScape: The Orchestral Collection

Musical instruments

 Bells • Church organ •  Cowbells •  Enchanted lyre •  Organ •  Penguin bongos •  Slayer bell •  Snake charm •  Windchimes

Items with sound
Emotes with sound

Beckon • Idea • Stamp • Skillcape • Air Guitar
NPCs

Penguins

Ping • Pong • Noodle • 35x35pxPenguin • Sheep • Agility Instructor • Army Commander • KGP Agent • Pescaling Pax

Enemies

Items

 Kgp id card •  Clockwork book •  Clockwork suit •  Cowbells •  Penguin bongos

Mission reports

Locations
Music
Related
Community content is available under
CC-BY-SA
unless otherwise noted.