A pet rock can be obtained from Askeladden during and after The Fremennik Trials quest. After the quest multiple pet rocks can be obtained by talking to him again.
Rocks can usually find their own food, and don't often need attention, so rocks are a good choice for a pet. The pet rock is held in both hands, although it cannot be used as a weapon; unarmed attacks are instead used while the pet rock is equipped. The pet rock does not confer any stat bonuses or penalties.
Pet rocks will happily live in the cat basket or menagerie of a player-owned house.
Uses
In the quest it is used to convince Lalli give you some of his golden wool. A Pet rock, cabbage, onion, and a potato are the ingredients to make rock soup, to please him.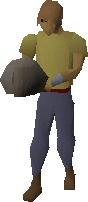 Unlike most pets, the pet rock will not follow the player when it is dropped, possibly due to the rock's shy nature. Because of this, it can be used to substitute a player while attempting to open the two-man doors in the Waterbirth Island Dungeon. To get further into the dungeon, a partner has to destroy the door-support from the other side of the ladder, although a special attack of a rune thrownaxe can do this instead.
Interactions
You try and feed the rock.
Your rock doesn't seem hungry.
You stroke your pet rock.
Your rock seems much happier.
"Who's a good rock then? Yes you are... You're such a good rock... ooga booga googa."
Your rock seems a little happier.
Want to fetch the stick, rock? Of course you do...
(Player puts the rock down and throws a stick which lands anywhere but forward. The rock will not move anywhere, because rocks naturally don't enjoy playing fetch. Player shrugs and picks the rock back up.)
"Be a good rock..."
(Player sets the rock down, and stand up for a few seconds. Then the player picks the rock up, and pets it.)
Trivia
The pet rock's usage in the quest is based on a real-life folk story called Stone soup.
The player character has unique idle animations when he/she is wielding a pet rock.
NPCs

Poison Salesman • Council workman • Lalli • Askeladden • Fossegrimen • Yrsa • Skulgrimen • Thora the Barkeep • Longhall Bouncer • Sailor • Styrmir

Fremennik council

Brundt the Chieftain • Manni the Reveller • Olaf the Bard • Peer the Seer • Sigli the Huntsman • Sigmund The Merchant • Swensen the Navigator • Thorvald the Warrior • Inga • Agnar • Sassilik • Pontak • Fisherman

Enemies

Koschei the deathless • Lanzig • Freidir • Borrokar • The Draugen

Items

 Keg of beer •  Beer tankard •  Tankard •  Low alcohol keg •  Strange object •  Lit strange object •  Branch •  Pet rock •  Golden fleece •  Golden wool •  Wooden disk •  Magnet •  Blue thread •  Small pick •  Toy ship •  Old red disk •  Red disk •  Red herring •  Sticky red goop •  Frozen key •  Seer's key •  Hunters' talisman •  Legendary cocktail •  Champions token •  Unusual fish •  Custom bow string •  Sturdy boots •  Exotic flower •  Fremennik blade

Bucket

 Empty •  1/5ths full •  2/5ths full •  3/5ths full •  4/5ths full •  Full •  Frozen

Jug

 Empty •  1/3rds full •  2/3rds full •  Full •  Frozen

Vase

 Vase •  Vase of water •  Vase lid •  Sealed vase

Lyre

Texts and scrolls

 Promissory note •  Warriors' contract •  Weather forecast •  Sea fishing map •  Tracking map •  Fiscal statement •  Fremennik ballad

Locations

Music

Related
Boss pets

 Baby Mole •  Prince black dragon •  Corporeal Critter •  Dark Core •  Jal-Nib-Rek •  Kalphite Princess •  Lil' Zik •  Skotos •  Snakeling •  TzRek-Jad •  TzRek-Zuk •  Vorki

| | |
| --- | --- |
| Chambers of Xeric |  Olmlet •  Puppadile •  Tektiny •  Vanguard •  Vasa Minirio •  Vespina |
| Dagannoth Kings |  Dagannoth Prime Jr. •  Dagannoth Rex Jr. •  Dagannoth Supreme Jr. |
| God Wars Dungeon |  General Graardor Jr. •  K'ril Tsutsaroth Jr. •  Kree'arra Jr. •  Zilyana Jr. |
| Slayer |  Abyssal orphan •  Hellpuppy •  Kraken •  Midnight •  Noon •  Smoke Devil |
| Wilderness bosses |  Callisto cub •  Chaos Elemental Jr. •  Scorpia's offspring •  Venenatis spiderling •  Vet'ion Jr. |

Skilling pets

 Baby chinchompa •  Beaver •  Giant squirrel •  Heron •  Rift guardian •  Rock Golem •  Rocky •  Tangleroot

Other pets

 Bloodhound •  Cat (Wily cat) (Hellcat) •  Chompy chick •  Fish •  Herbi •  Penance Pet •  Phoenix •  Rock •  Toy cat
Community content is available under
CC-BY-SA
unless otherwise noted.