World of Warcraft: Dragonflight - The Loop
Play Sound

Petra Fiyed is an NPC who briefly appears during the One Small Favour quest after defeating the Slagilith. She was trapped in a rock face after volunteering to do a teleportation experiment for Wizard Cromperty.
During the quest, the player must use the animate rock scroll to free her. Afterwards, she returns to Seers' Village, and is never found in game again.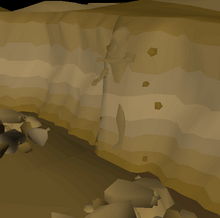 Trivia
Petra's name is a play on the word "petrified."
NPCs

Yanni Salika • Jungle forester • Captain Shanks • Brian • Aggie • Jimmy the Chisel • Johanhus Ulsbrecht • Fred the Farmer • Seth Groats • Horvik • Apothecary • Tassie Slipcast • Hammerspike Stoutbeard • Sanfew • Captain Bleemadge • Arhein • Phantuwti Fanstuwi Farsight • Wizard Cromperty • Tindel Marchant • Rantz • Gnormadium Avlafrim • Petra Fiyed

Monsters

Items

 Blunt axe •  Herbal tincture •  Stodgy mattress •  Comfy mattress •  Iron oxide •  Animate rock scroll •  Weather report •  Unfired pot lid •  Pot lid •  Airtight pot •  Breathing salts •  Pigeon cage •  Chicken cage •  Sharpened axe •  Red mahogany log

Vane parts

 Broken vane part •  Directionals •  Ornament •  Weathervane pillar

Guthix rest

 Bowl of hot water •  Cup of water •  Cup of hot water •  Ruined herb tea •  Herb tea mix •  Guthix rest

Reward

Locations

Shilo Village • Kharazi Jungle • Port Sarim • Draynor Village • Lumbridge • Varrock • Barbarian Village • Dwarven Mine • Taverley • White Wolf Mountain • Catherby • Seers' Village • Goblin Cave • East Ardougne • Port Khazard • Feldip Hills

Music

Ambient Jungle • Autumn Voyage • Barbarianism • Baroque • Cave Background • Chompy Hunt • Dream • Fanfare 3 • Fishing • Garden • Goblin Game • Horizon • Ice Melody • Jungly 1 • Overture • Sea Shanty 2 • Soundscape • Spirit • Start

Related