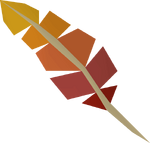 Phoenix feathers can be grabbed from the desert phoenix north east of the River Elid, by the clay mines. One feather at a time can be plucked from the bird's tail, but the player may fail, in which case the phoenix stuns the player and does a small amount of damage. Players do not kill the bird when plucking feathers. When a feather is successfully plucked, the player earns 26 Thieving experience points.
A phoenix feather is used in The Golem quest, where it is used on black mushroom ink to turn it into a phoenix quill pen.
NPCs

Clay golem • Elissa • Varmen • Curator Haig Halen • Desert Phoenix • Thammaron

Items

 Letter •  Varmen's notes •  Strange implement •  Display cabinet key •  Statuette •  Golem program •  Phoenix feather •  Black mushroom •  Black mushroom ink •  Phoenix quill pen

Locations

Music

Related
Coloured feathers
Quest feathers

 Bronze feather •  Eagle feather •  Fire feather •  Golden feather (Eagles' Peak) •
 Golden feather (Priest in Peril) •  Griffin feather •  Magic gold feather •  Metal feather •  Phoenix feather •  Silver feather

Other
Community content is available under
CC-BY-SA
unless otherwise noted.