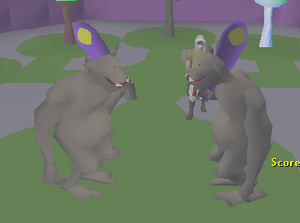 Pinball is a random event where the player is transported by Flippa to a strange room with five pillars, each with one rune on top, and two trolls, Tilt and Flippa, wielding large clubs.
The goal of the game is to tag each pillar that has glowing rings around it. This scores the player one point. After the player has scored ten points, they are free to leave through the exit. If a pillar that doesn't have the glowing rings around it is tagged, the score is reset to zero, and the player has to try again. The five pillars contain five spinning tops with fire, water, earth, air, and nature runes respectively.
If the player tries to leave before they reach ten points, they will be teleported in front of Tilt and Flippa, who knock the player back onto the pillars and reset the score. 
Rewards