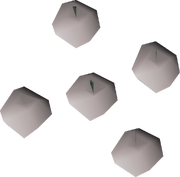 Poison ivy seeds are seeds that can be grown with level 70 Farming. They are planted in bush patches. These grow in two hours and forty minutes, yielding 674 experience from checking the health, and 45 experience per berry picked.
There is no need to pay a farmer to watch your poison ivy bush grow or to apply compost to the patch because it will never become diseased. A poison ivy bush yields a minimum of 4 poison ivy berries, where the Farming level reduces the chance of using up one of the three "lives" of the patch, much like harvesting herb patches. Once all berries are picked from the bush, it will produce more berries, approximately 1 per 20 minutes.
Growing a poison ivy bush is part of the hard tasks from the Ardougne Diary.
You can grow poison ivy berries in the following locations:
Farmers require eight poison ivy berries to watch over your growing Calquat Tree.
Farming info
Dropping monsters
Allotment

 Potato •  Onion •  Cabbage •  Tomato •  Sweetcorn •  Strawberry •  Watermelon

Flower

 Marigold •  Rosemary •  Nasturtium •  Woad •  Limpwurt

Herb

 Guam •  Marrentill •  Tarromin •  Harralander •  Gout tuber •  Ranarr •  Toadflax •  Irit •  Avantoe •  Kwuarm •  Snapdragon •  Cadantine •  Lantadyme •  Dwarf weed •  Torstol

Hop

 Barley •  Hammerstone •  Asgarnian •  Jute •  Yanillian •  Krandorian •  Wildblood

Bush

 Redberry •  Cadavaberry •  Dwellberry •  Jangerberry •  Whiteberry •  Poison ivy

Tree
Fruit tree

 Apple tree •  Banana tree •  Orange tree •  Curry tree •  Pineapple •  Papaya tree •  Palm tree

Special seeds

 Seaweed •  Teak •  Grape •  Mushroom •  Mahogany •  Cactus •  Belladonna •  Calquat •  Spirit

Other seeds

 Blindweed •  Crystal (small) •  Grass •  Hardy gout tuber •  Hardy gout tubers •  Kelda •  Pine tree •  White pearl

Tithe Farm seeds
Chambers of Xeric
Garden of Tranquillity

 Delphinium •  Pink orchid •  Pink rose •  Red rose •  Snowdrop •  Vine •  White rose •  Yellow orchid
Community content is available under
CC-BY-SA
unless otherwise noted.