Polls are in-game votes in which players are asked to express their preferences for certain changes within Old School RuneScape. Only members with a total level of 280 or above can participate. (since the Old School feature poll 12)
Originally, polls were only held on the official Old School RuneScape website. Following the results of the Old School in-game poll survey, it was decided to add in-game poll booths. Players may still vote on the official website should they so choose.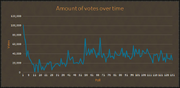 Polls on game updates use a plurality voting system to determine their outcome. Any question containing a Yes option requires a supermajority of 75% of the total votes to pass. This is not counting Skip question votes, an option introduced with the Quality of Life - Top 10 PvP Suggestions poll.
Placed votes cannot be changed, and every question must be answered to vote. A running tally can be found during polls at poll booths or on the official website. These and other aspects related to polling itself have also been subject of polls, but have historically failed to pass.
List of polls
2018
2017
| # | Title | Opened | Closed | Questions | Votes |
| --- | --- | --- | --- | --- | --- |
| 120 | Mythical Cape | 30 November | 7 December | 1 | 34,895 |
| 119 | Fossil Island Improvements | 23 November | 29 November | 9 | 24,020 |
| 118 | Wilderness Rejuvenation II: Revenant Caves | 14 November | 20 November | 7 | 37,931 |
| 117 | Wilderness Rejuvenation II | 2 November | 8 November | 21 | 39,668 |
| 116 | Old School Content Poll #57: Quests, Buffs & QoL | 19 October | 25 October | 25 | 36,213 |
| 115 | Dragon Slayer II | 28 September | 4 October | 39 | 38,324 |
| 114 | Fossil Island Login Screen & Make-All | 5 September | 6 September | 2 | 19,872 |
| 113 | Fossil Island: Sulliuscep Mushrooms | 24 August | 28 August | 2 | 27,150 |
| 112 | Old School Content Poll #56: Quality of Life | 3 August | 9 August | 24 | 33,012 |
| 111 | Old School Content Poll #55: Grotesque Guardians, etc. | 24 July | 31 July | 10 | 39,069 |
| 110 | Old School Content Poll #54: Binding spells, F2P Castle Wars, etc. | 7 July | 13 July | 30 | 42,362 |
| 109 | Old School Content Poll #53: Guilds & Make-All | 15 June | 21 June | 15 | 50,522 |
| 108 | Old School Content Poll #52: World Map | 3 May | 9 May | 21 | 42,157 |
| 107 | Fossil Island | 20 April | 26 April | 11 | 40,629 |
| 106 | Old School Content Poll #51: Slayer & Dungeons | 4 April | 10 April | 25 | 44,523 |
| 105 | Mor Ul Rek and The Inferno | 24 March | 30 March | 5 | 46,801 |
| 104 | Quality of Life - General Suggestions | 24 February | 2 March | 20 | 35,518 |
| 103 | Quality of Life - PvP-related Suggestions | 17 February | 23 February | 13 | 33,577 |
| 102 | Quality of Life - Ten Skilling Suggestions | 10 February | 16 February | 11 | 49,881 |
| 101 | Quality of Life - Ten PvM Suggestions | 4 February | 9 February | 11 | 39,418 |
| 100 | Old School Polls | 31 January | 4 February | 5 | 42,229 |
| 99 | Old School Content Poll #50: Models, Anims and More | 19 January | 25 January | 26 | 50,600 |
2016
| # | Title | Opened | Closed | Questions | Votes |
| --- | --- | --- | --- | --- | --- |
| 98 | Old School Content Poll #49: Silver Jewellery | 10 November | 16 November | 24 | 34,545 |
| 97 | More Raids Rewards | 3 November | 9 November | 11 | 57,178 |
| 96 | Hardcore Ironman Mode | 20 October | 26 October | 1 | 34,925 |
| 95 | Old School Raids Armours Survey | 13 October | 19 October | 9 | 28,333 |
| 94 | Old School Content Poll #48: Rewards for Raids & Quality of Life | 7 October | 12 October | 15 | 28,692 |
| 93 | The Ourania Altar | 22 September | 28 September | 2 | 35,258 |
| 92 | Old School Content Poll #47: Rewards for Raids & Slayer | 8 September | 14 September | 32 | 34,227 |
| 91 | Golden Gnomes 2016 | 30 August | 5 September | 2 | 45,900 |
| 90 | Old School Content Poll #46: Wintertodt Rewards & Superior Slayer | 11 August | 17 August | 38 | 32,403 |
| 89 | Old School Priority Poll #5 | 26 July | 1 August | 22 | 42,060 |
| 88 | Old School Content Poll #45: Skilling Pets & Quality of Life | 21 July | 25 July | 26 | 34,363 |
| 87 | Old School Content Poll #44: PvP & Player-owned houses | 20 June | 27 June | 31 | 51,888 |
| 86 | Last Man Standing - PvP Minigame | 26 May | 1 June | 1 | 42,000 |
| 85 | Old School Content Poll #43: Great Kourend Content | 13 May | 18 May | 17 | 36,152 |
| 84 | Old School Content Poll #42: Clue Scrolls Expansion | 14 April | 20 April | 10 | 36,045 |
| 83 | Old School Content Poll #41: Bank placeholders & Skillcapes | 31 March | 6 April | 27 | 37,173 |
| 82 | Old School Content Poll #40: Vanilla LootShare & QoL | 7 March | 14 March | 13 | 41,555 |
| 81 | Old School Content Poll #39: Monkey Madness II | 25 February | 2 March | 4 | 45,059 |
| 80 | Quality of Life - Top 10 General Suggestions | 18 February | 22 February | 10 | 29,139 |
| 79 | Quality of Life - Top 10 PvP Suggestions | 11 February | 15 February | 12 | 34,348 |
| 78 | Quality of Life - Top 10 PvM Suggestions | 4 February | 8 February | 10 | 34,785 |
| 77 | Quality of Life - Top 10 Skilling Suggestions | 28 January | 1 February | 11 | 32,182 |
| 76 | Old School Content Poll #38: Jad II, Deadman & Zeah | 14 January | 20 January | 31 | 49,936 |
2015
| # | Title | Opened | Closed | Questions | Votes |
| --- | --- | --- | --- | --- | --- |
| 75 | Christmas 2015 | 3 December | 9 December | 1 | 33,447 |
| 74 | Blood & Soul Runecrafting | 12 November | 18 November | 2 | 32,441 |
| 73 | Deadman and Ditch | 2 November | 4 November | 6 | 22,338 |
| 72 | Old School Content Poll #37: Skillcape Perks | 22 October | 28 October | 18 | 33,833 |
| 71 | Abyssal buff | 15 October | 21 October | 2 | 41,012 |
| 70 | Old School Halloween 2015 | 24 September | 30 September | 2 | 31,501 |
| 69 | Old School Content Poll #36: Skilling Pets | 17 September | 23 September | 26 | 35,287 |
| 68 | Sailing Skill | 10 September | 16 September | 1 | 73,796 |
| 67 | Old School Content Poll #35: The Max Cape | 30 July | 5 August | 29 | 36,881 |
| 66 | Deadman Mode - Survival PvP | 9 July | 15 July | 1 | 41,640 |
| 65 | Old School Priority Poll #4 | 25 June | 1 July | 15 | 31,597 |
| 64 | Old School Content Poll #34: XP droplets & Slayer | 18 June | 24 June | 37 | 38,557 |
| 63 | Old School Content Poll #33 | 14 May | 20 May | 24 | 47,498 |
| 62 | Old School Content Poll #32: Resizable Mode | 16 April | 22 April | 22 | 52,170 |
| 61 | Old School Content Poll #31: Easter Holiday Event | 13 March | 18 March | 13 | 41,380 |
| 60 | Instanced Kraken | 6 March | 11 March | 1 | 49,692 |
| 59 | Old School Content Poll #30: Near Miss Poll | 12 February | 19 February | 16 | 37,321 |
| 58 | Permanent F2P & Membership Bonds | 28 January | 4 February | 1 | 51,152 |
| 57 | Old School GE tweaks | 22 January | 28 January | 5 | 41,963 |
| 56 | Old School GE location survey | ? | ? | 1 | 36,206 |
| 55 | Old School Content Poll #29: Grand Exchange | 12 January | 19 January | 18 | 72,385 |
2014
| # | Title | Opened | Closed | Questions | Votes |
| --- | --- | --- | --- | --- | --- |
| 54 | Old School Snake Boss Name Poll | 18 December | 24 December | 1 | 27,025 |
| 53 | Old School Achievement Diary Rewards Poll | 4 December | 10 December | 4 | 17,823 |
| 52 | Old School Content Poll #28 | 27 November | 3 December | 6 | 20,305 |
| 51 | Old School Game Integrity Survey | 19 November | 26 November | 5 | 29,302 |
| 50 | Old School New Continent, Achievement Diaries and Poll poll | 7 November | 12 November | 8 | 21,434 |
| 49 | Old School Content Poll #27 | 30 October | 5 November | 24 | 18,665 |
| 48 | Old School Poll Survey | 24 October | 29 October | 6 | 21,700 |
| 47 | Old School Content Poll #26 | 9 October | 15 October | 12 | 20,435 |
| 46 | Old School Halloween 2014 | 3 October | 8 October | 2 | 19,881 |
| 45 | Old School Bounty Hunter Rewards 2 | 25 September | 1 October | 10 | 19,558 |
| 44 | Old School Content Poll #25 | 18 September | 24 September | 20 | 33,631 |
| 43 | Old School Bounty Hunter Rewards | 8 September | 15 September | 16 | 29,829 |
| 42 | Old School Priority Poll #3 | 4 September | ? | 3 | 26,216 |
| 41 | Old School feature poll - Content Poll #24 | 28 August | 3 September | 20 | 32,304 |
| 40 | Old School feature poll - Artisan Skill | 21 August | 27 August | 17 | 47,001 |
| 39 | Old School feature poll - Content Poll #23 | 6 August | 13 August | 22 | 19,279 |
| 38 | Old School in-game poll survey | 28 July | 4 August | 9 | 12,809 |
| 37 | Old School feature poll - Artisan and Bounty Hunter | 17 July | 23 July | 2 | 18,271 |
| 36 | Old School feature poll - Content Poll #22 | 9 July | 16 July | 34 | 20,257 |
| 35 | Old School feature poll - Rewarding Rewards | 11 June | 18 June | 21 | 17,883 |
| 34 | Old School feature poll #20 (Trading Solution) | 28 May | 4 June | 7 | 30,002 |
| 33 | Player Designed Content: New Skill survey | 21 May | 28 May | 1 | 13,835 |
| 32 | Old School feature poll #19 | 7 May | 14 May | 20 | 14,612 |
| 31 | Old School Trading Solution Survey | 29 April | 5 May | 4 | 19,404 |
| 30 | Old School feature poll #18 | 16 April | 23 April | 22 | 18,001 |
| 29 | Old School - Update priorities & new slayer drops | 31 March | 7 April | 7 | 17,716 |
| 28 | Old School Wilderness Feedback Poll | 19 March | 26 March | 15 | 13,484 |
| 27 | Old School feature poll #17 | 6 March | 12 March | 6 | 11,373 |
| 26 | Player Designed Content competition - Brains over brawn | 27 February | 2 March | 1 | 5,333 |
| 25 | Old School feature poll #16 | 12 February | 19 February | 28 | 22,884 |
| 24 | Old School feature poll #15: Rejuvenating the Wilderness | 22 January | 29 January | 30 | 22,617 |
2013
| # | Title | Opened | Closed | Questions | Votes |
| --- | --- | --- | --- | --- | --- |
| 23 | Old School feature poll #14: Minigames | 19 December | 26 December | 34 | 16,869 |
| 22 | Content Poll #13: Slayer & Christmas | 21 November | 27 November | 25 | 20,421 |
| 21 | Old School: About you! | 11 November | 17 November | 7 | 13,810 |
| 20 | Old School feature poll #12: Player-designed content | 1 November | 6 November | 11 | 11,351 |
| 19 | Old School player designed content poll | 25 October | 29 October | 1 | 4,473 |
| 18 | Old School feature poll #11: PvP Worlds and more | 10 October | 16 October | 13 | 12,733 |
| 17 | Kril's Magic Weapon | 27 September | 4 October | 1 | 5,361 |
| 16 | Old School feature poll #10: New Rewards | 18 September | 25 September | 23 | 16,002 |
| 15 | Old School feature poll #9: God Wars & Banks | 3 September | 9 September | 17 | 28,080 |
| 14 | Goblin Invasion - Taking Down the High Priest | 20 August | 26 August | 1 | 1,470 |
| 13 | The Big Four Priority Poll | 16 August | 22 August | 2 | 14,700 |
| 12 | Old School feature poll #8 | 8 August | 14 August | 6 | 17,336 |
| 11 | Goblin Invasion - Intelligence Received | 29 July | 5 August | 1 | 2,067 |
| 10 | Old School feature poll #7 | 17 July | 24 July | 14 | 17,424 |
| 9 | Old School feature poll #6 - Castle Wars, etc. | 27 June | 3 July | 6 | 17,083 |
| 8 | Old School feature poll #5 – Dom Onion Cave, and more... | 6 June | 12 June | 12 | 23,014 |
| 7 | Old School feature poll #4– May 2013 | 16 May | 22 May | 17 | 27,977 |
| 6 | Old School rare item poll #3 – May 2013 | 8 May | 14 May | 52 | 33,623 |
| 5 | Old School feature poll #3 – April 2013 | 25 April | 1 May | 8 | 46,647 |
| 4 | Old School Rare Item poll #2 – April 2013 | 17 April | 24 April | 20 | 34,758 |
| 3 | Old School Rare Item poll #1 – April 2013 | 10 April | 17 April | 2 | 64,890 |
| 2 | Old School feature poll #2 – April 2013 | 4 April | 10 April | 9 | 75,694 |
| 1 | Old School feature poll #1 – March 2013 | 14 March | 20 March | 9 | 101,407 |