Old School RuneScape uses the British convention for floor numbering: Ground floor, first floor, etc.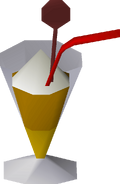 A premade choc s'dy is a drink that can be bought at Blurberry's Bar in the south-east corner of the 1st2nd floor[?] of the Grand Tree. Premade drinks cannot be used in the Gnome Restaurant minigame.
Drinking it heals 5 hitpoints and temporarily adds +6 to strength while reducing attack by 4.
Cocktails

| | |
| --- | --- |
| Self-made |  Fruit blast (mixed) •  Dirty blast •  Pineapple punch (mixed) •  Wizard blizzard (mixed) •  Short green guy (mixed) •  Drunk dragon (1 • 2 • 3) •  Chocolate saturday (1 • 2 • 3) •  Blurberry special (mixed) |
| Pre-made |  Fruit blast •  Pineapple punch •  Wizard blizzard •  Short green guy •  Drunk dragon •  Chocolate saturday •  Blurberry special |

Crunchies

| | |
| --- | --- |
| Self-made |  Toad (Half made • Unfinished) •  Spicy (Half made • Unfinished) •  Worm (Half made • Unfinished) •  Chocolate chip (Half made • Unfinished) •  Raw •  Half baked •  Burnt |
| Pre-made |  Toad •  Spicy •  Worm •  Chocolate chip |

Battas

| | |
| --- | --- |
| Self-made |  Fruit (Half made • Unfinished) •  Toad (Half made) •  Worm (Half made • Unfinished) •  Vegetable (Half made • Unfinished) •  Cheese & tomato (Half made • Unfinished) •  Raw •  Half baked •  Burnt |
| Pre-made |  Fruit •  Toad •  Worm •  Vegetable •  Cheese & tomato |

Bowls

| | |
| --- | --- |
| Self-made |  Worm hole (Half made • Unfinished) •  Veg ball (Half made • Unfinished) •  Tangled toad's legs (Half made) •  Chocolate bomb (Half made • Unfinished) •  Raw •  Half baked •  Burnt |
| Pre-made | |

Ingredients

| | |
| --- | --- |
| Supplies |  Cocktail guide •  Cocktail shaker •  Cocktail glass •  Gianne's cook book •  Gianne dough •  Batta tin •  Crunchy tray •  Gnomebowl mould |
| Drinks | |
| Fruits |  Lemon •  Lemon chunks •  Lemon slices •  Orange •  Orange chunks •  Orange slices •  Pineapple •  Pineapple chunks •  Pineapple ring •  Lime •  Lime chunks •  Lime slices |
| Additional |  Dwellberries •  Equa leaves •  Pot of cream •  Swamp toad •  Toad's legs •  King worm •  Gnome spice |