Raise a Floppa - The Loop
Play Sound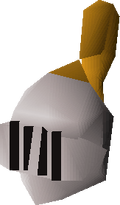 The proselyte sallet is a piece of Temple Knight Armour that requires 30 Defence, 20 Prayer, and completion of The Slug Menace quest to equip. It is only exceeded by the 6 god mitres in Prayer bonus for the helmet slot.
It has the exact same bonuses as an Adamant full helm, except that it offers +4 Prayer bonus. Like other Proselyte equipment, it is white with a dark-gold trim.
This piece of armour cannot be made using the Smithing skill. Although this armour is trimmed, it cannot be obtained from any Treasure Trail.
The sallet, if part of a full set of the armour, can be stored in the armour case of a player-owned house.
Standard

| | |
| --- | --- |
| Medium helmets |  Bronze •  Iron •  Steel •  Black •  White •  Mithril •  Adamant •  Rune •  Dragon |
| Full helmets |  Bronze •  Iron •  Steel •  Black •  White (Initiate • Proselyte) •  Mithril •  Adamant •  Rune •  Dragon |

Treasure Trails

| | |
| --- | --- |
| Trimmed | |
| Gold-trimmed |  Bronze •  Iron •  Steel •  Black •  Mithril •  Adamant •  Rune •  Gilded med •  Gilded full •  Dragon |
| Black heraldic | |
| Adamant heraldic | |
| Rune heraldic | |
| Rune god | |

Other

| | |
| --- | --- |
| Slayer helmets |  Regular (imbued) •  Black (imbued) •  Green (imbued) •  Red (imbued) •  Purple (imbued) •  Turquoise (imbued) |
| Fremennik helmets |  Regular •  Warrior •  Berserker •  Rock-shell •  Neitiznot |
| Shayzien helmets | |
| Barrows helmets | |
| Serpentine helmets | |
| Miscellaneous |  Khazard •  Spiny •  Shaman mask •  Black mask •  Ram skull •  Tyras •  Fighter hat •  Void melee •  Granite •  Dwarven •  Obsidian •  3rd age •  Statius's |