New Pokemon Games - The Loop
Play Sound
Purple logs are created by using a purple firelighter (obtainable from completing any clue scroll) on some normal logs.
When these logs are burned, they create a purple fire. This action awards 50 Firemaking experience, 10 more experience than lighting regular logs.
Note: Purple logs can be added to the Odd Old Man's pot boiler, but the resulting fire will be normal, and your logs will be lost, so this is not recommended.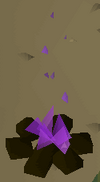 Regular logs

 Logs •  Achey •  Oak •  Willow •  Teak •  Maple •  Mahogany •  Arctic pine •  Yew • Magic •  Redwood

Pyre logs

 Wood •  Oak •  Willow •  Teak •  Arctic •  Maple •  Mahogany •  Yew • Magic •  Redwood

Coloured logs

Other logs

 Bark •  Dream •  Juniper •  Logs and kindling •  Split •  Windswept •  Scrapey tree •  Bruma •  Deadwood