m

m (Centralizing interwiki links for mobile readiness)

 

(5 intermediate revisions by one other user not shown)
Line 1:
Line 1:
−

{{Infobox Item

+

{{Item

 
+

| interwiki = {{External|rs}}

 

|name = Queen's secateurs

 

|name = Queen's secateurs

 

|image = [[File:Queen's secateurs.png|Queen's secateurs]]

 

|image = [[File:Queen's secateurs.png|Queen's secateurs]]
---
Latest revision as of 17:20, 11 February 2019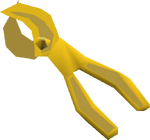 Queen's secateurs are used in A Fairy Tale Part I and A Fairy Tale Part II quests. They are first obtained as a drop from Tanglefoot. In part 2, you need to pickpocket Fairy Godfather to get them, which requires a level of 40 Thieving.
These secateurs cannot be wielded, or used as normal secateurs. For example, should you use them on trees you have planted, you will only receive the message: "Nothing interesting happens."
You cannot obtain multiple secateurs while one is in your inventory or bank. However, through the drop trick, it is possible to obtain multiple secateurs.
NPCs

Martin • Zandar Horfyre • Malignius Mortifer • Filliman Tarlock • Tanglefoot • Baby tanglefoot

Fairies

Fairy Queen • Fairy Nuff • Fairy Godfather • Fat Rocco • Slim Louie

Items

 Symptoms list •  Draynor skull •  Magic secateurs •  Queen's secateurs

Locations
Related
Characters

Martin • Cosmic Being • Ork • Gorak

Fairies

Fairy chef • Co-ordinator • Fairy Fixit • Fairy Very Wise • Fairy Nuff • Fairy Queen • Fairy Godfather

Items

 Nuff's certificate •  Queen's secateurs •  Star flower •  Gorak claws •  Gorak claw powder •  Magic essence (unf) •  Magic essence

Locations

Zanaris • Fairy Resistance Hideout • Cosmic entity's plane • Gorak Plane

Related
Community content is available under
CC-BY-SA
unless otherwise noted.