GTA: The Criminal Enterprises - The Loop
Play Sound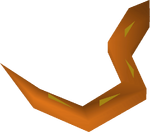 Raw lava eels require level 53 Fishing to catch, and a Cooking level of 53 to cook. Raw lava eels may be caught using an oily fishing rod and bait in the lava rivers found in Taverley Dungeon or in the Wilderness Lava Maze.
Players who wish to reside in Taverley Dungeon for extensive periods of time can bring equipment (logs, tinderbox, oily fishing rod and bait) to fish and cook the lava eels to produce food for combat. This is especially true for players given Black demons or Blue dragons as a slayer task.
During the Heroes' Quest, guild-master Achietties will ask players to obtain a cooked lava eel to prove that they are worthy of membership to the Heroes' Guild. Players will then need to visit Gerrant in Port Sarim to learn how to make an oily fishing rod, followed by going to either Taverley Dungeon or the Wilderness Lava Maze to catch an eel.
Trivia
Oddly, you can cook the lava eel on fire. In real life, lava is much hotter than a simple campfire. This is also stated in the Lava eel's examine information.
Normal

| | |
| --- | --- |
| Cooked |  Shrimps •  Sardine •  Herring •  Anchovies •  Mackerel •  Trout •  Cod •  Pike •  Slimy eel •  Salmon •  Tuna •  Rainbow fish •  Cave eel •  Lobster •  Bass •  Swordfish •  Monkfish •  Shark •  Anglerfish •  Dark crab |
| Raw |  Shrimps •  Sardine •  Herring •  Anchovies •  Mackerel •  Trout •  Cod •  Pike •  Slimy eel •  Salmon •  Tuna •  Rainbow fish •  Cave eel •  Lobster •  Bass •  Swordfish •  Monkfish •  Shark •  Anglerfish •  Dark crab |

Chambers of Xeric

Special

| | |
| --- | --- |
| Cooked |  Karambwanji •  Giant carp •  Lava eel •  Karambwan (poison) •  Sea turtle •  Manta ray •  Fishlike thing |
| Raw |  Karambwanji •  Giant carp •  Lava eel •  Karambwan •  Sea turtle •  Manta ray •  Fishlike thing |
| Leaping | |
| Trophy | |
| Other |  Pufferfish •  Fresh monkfish •  Infernal eel •  Minnow •  Sacred eel •  Loach •  Wester fish |
NPCs

Achietties • Gerrant • Katrine • Grubor • Trobert • Straven • Alfonse the waiter • Charlie the cook • Garv

Enemies

Items

 Blamish snail slime •  Blamish oil •  Oily fishing rod •  Lava eel (raw) •  Id papers •  Miscellaneous key •  Grip's keyring •  Pete's candlestick •  Thieves' armband •  Ice gloves •  Fire feather

Related