This article is about raw tuna. For the cooked version, see
Tuna
.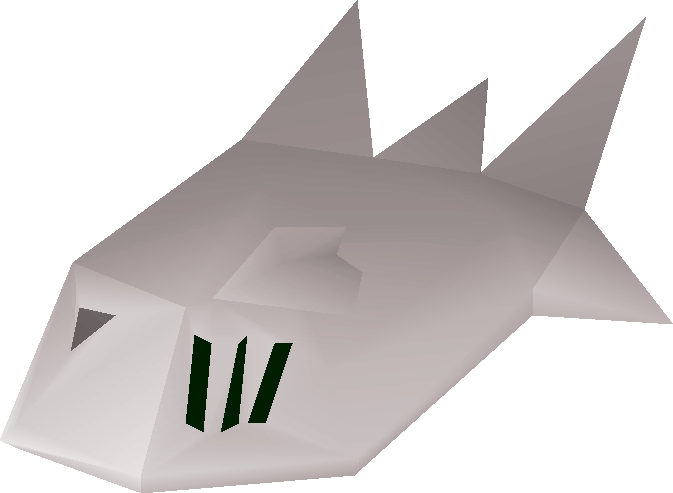 Raw tuna
is a type of fish, obtained by harpoon 
Fishing
 at a cage/harpoon 
fishing spot
. Raw tuna require 35 Fishing to catch and award the player 80
experience
when caught. They can be sold, or cooked with a
Cooking
level of 30 to produce
tuna
, granting 100 experience in Cooking. They are often used by mid-levelled players when training
combat
.
Normal

| | |
| --- | --- |
| Cooked |  Shrimps •  Sardine •  Herring •  Anchovies •  Mackerel •  Trout •  Cod •  Pike •  Slimy eel •  Salmon •  Tuna •  Rainbow fish •  Cave eel •  Lobster •  Bass •  Swordfish •  Monkfish •  Shark •  Anglerfish •  Dark crab |
| Raw |  Shrimps •  Sardine •  Herring •  Anchovies •  Mackerel •  Trout •  Cod •  Pike •  Slimy eel •  Salmon •  Tuna •  Rainbow fish •  Cave eel •  Lobster •  Bass •  Swordfish •  Monkfish •  Shark •  Anglerfish •  Dark crab |

Chambers of Xeric

Special

| | |
| --- | --- |
| Cooked |  Karambwanji •  Giant carp •  Lava eel •  Karambwan (poison) •  Sea turtle •  Manta ray •  Fishlike thing |
| Raw |  Karambwanji •  Giant carp •  Lava eel •  Karambwan •  Sea turtle •  Manta ray •  Fishlike thing |
| Leaping | |
| Trophy | |
| Other |  Pufferfish •  Fresh monkfish •  Infernal eel •  Minnow •  Sacred eel •  Loach •  Wester fish |