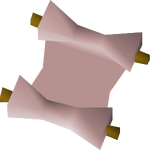 A receipt is a quest item obtained during The Feud. It is obtained by buying two camels to give to each of the two gangs, Menaphites and Bandits, in Pollnivneach. However, this fails, and both of them ask for 10 camels instead. Players must go through a certain conversation path in order to obtain receipts.
NPCs

Ali Morrisane • Ali the Camel Man • Ali the Camel • Ali the Operator • Ali the Hag • Ali the Kebab seller • Ali the Mayor • Street urchin • Traitorous Ali • Ali the Barman • Ali the Snake Charmer • Bandit • Desert snake • Drunken Ali • Menaphite Thug • Villager

Enemies

Menaphite Leader • Bandit Leader • Tough Guy • Bandit champion

Items

 Keys •  Jewels •  Note (numbers) •  Note (Fibonacci) •  Kharidian headpiece •  Fake beard •  Desert disguise •  Receipt •  Hag's poison •  Red hot sauce •  Ugthanki dung •  Snake charm •  Snake basket •  Oak blackjack •  Willow blackjack •  Snake basket full •  Super kebab •  Karidian disguise

Locations

Miscellaneous
Community content is available under
CC-BY-SA
unless otherwise noted.