Details
| | |
| --- | --- |
| Start point | Inspect one of the goblin generals in the Lumbridge Castle dining room. |
| Official difficulty | Special |
| Description | The goblin generals need a food that they'll both eat. Find a chef in Goblin Village to learn how to make it. |
| Length | Short |
| Requirements | Completion of Goblin Diplomacy |
| Items required | |
| Enemies to defeat | None |
Walkthrough
Items required: Bread, an orange, a knife, dye (other than red, yellow, orange, or pink), spice, fishing bait, a bucket of water, and charcoal.
First, inspect the frozen goblin generals in the Lumbridge Castle dining room.
Go to the Goblin Village and talk to the generals. They will not help you. Go into the building just south of the generals and climb down the ladder. You will see Mudknuckles, a goblin cook. He will tell you to get him some charcoal to finish a cooking recipe that he overheard two dwarves talking about. Give him the charcoal. He will add it to his cauldron, which will explode in a hilarious cutscene. Miraculously, you both survive.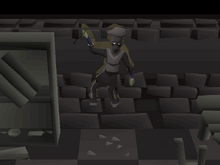 Mudknuckles will then tell you that he has trouble with the food, as both the generals are bickering over it. To make food for the generals, he needs oranges that aren't orange, maggots that aren't bland, and bread that isn't crunchy. You can make the ingredients listed below:
Give all three to Mudknuckles to get the Slop of compromise. Give it to the goblin generals in Lumbridge to complete this part of the quest.
Rewards
Subquests

Another Cook's Quest • Freeing the Goblin generals • Freeing the Mountain Dwarf • Freeing Evil Dave • Freeing the Lumbridge Guide • Freeing Pirate Pete • Freeing Skrach Uglogwee • Freeing Sir Amik Varze • Freeing King Awowogei

Monsters

Agrith-Na-Na • Flambeed • Karamel • Dessourt • Gelatinnoth Mother • Culinaromancer

Rewards

 Antique lamp

Related
Community content is available under
CC-BY-SA
unless otherwise noted.