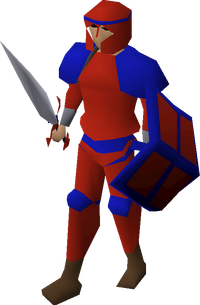 Red decorative equipment is a reward from the Castle Wars minigame. The armour set requires 5 Defence to equip and the sword requires 5 Attack to wield.
To buy this full set (with either a legs or a skirt) would cost 29 Castle wars tickets, which, assuming every game is won, would take 15 matches and approximately 375 minutes.
Cost:
Red decorative helm - 4 tickets
Red decorative body - 8 tickets
Red decorative legs/skirt - 6 tickets
Red decorative shield - 6 tickets
Red decorative sword - 5 tickets
You can also sell pieces of the set back to reclaim your tickets.
Components and bonuses
The armour set (shield included) have stats equal to steel armour. The sword is equal to a steel longsword.
Item

Attack Bonuses

Defence Bonuses

Other

Red decorative helm
0
0
0
-3
-1
+7
+8
+6
-1
+7
0
0
0
0
Red decorative body
0
0
0
-30
-10
+32
+31
+24
-6
+31
0
0
0
0
Red decorative legs
0
0
0
-21
-7
+17
+16
+15
-4
+16
0
0
0
0
Red decorative skirt
0
0
0
-21
-7
+17
+16
+15
-4
+16
0
0
0
0
Red decorative shield
0
0
0
-8
-2
+13
+15
+14
-1
+14
0
0
0
0
Red decorative sword
+9
+14
-2
0
0
0
+3
+2
0
0
+16
0
0
0
Gameplay items

 Bandages •  Barricade •  Explosive potion •  Climbing rope •  Rock •  Toolkit •  Bronze pickaxe •  Tinderbox

Rewards

 Castle wars ticket

Red decorative
White decorative
Gold decorative
Decorative magic
Decorative ranged
Halos

Others

 Castlewars hood (Saradomin) •  Castlewars hood (Zamorak) •  Castlewars cloak (Saradomin) •  Castlewars cloak (Zamorak) •  Saradomin banner •  Zamorak banner

Other