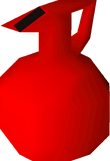 Red hot sauce can be obtained from the kebab shop in the town center of Pollnivneach. It is used in The Feud and My Arm's Big Adventure quests to obtain Camel dung which is necessary to make the poison used to kill Traitorous Ali. It can also be used on an ordinary kebab to turn it into a super kebab. However, Ali the Kebab seller will not give the player a second bottle of red hot sauce while the player has one in their inventory or in the bank, nor can the player pick up any they may have dropped once another has been received from Ali. The sauce can only be used on one kebab; afterwards, it disappears from the player's inventory and the player will have to ask for another.
If the player attempts to use the bottle on Drunken Ali's drink on the table in the Pollnivneach bar, the character will say that they will not do that as it would be really childish.
NPCs

Ali Morrisane • Ali the Camel Man • Ali the Camel • Ali the Operator • Ali the Hag • Ali the Kebab seller • Ali the Mayor • Street urchin • Traitorous Ali • Ali the Barman • Ali the Snake Charmer • Bandit • Desert snake • Drunken Ali • Menaphite Thug • Villager

Enemies

Menaphite Leader • Bandit Leader • Tough Guy • Bandit champion

Items

 Keys •  Jewels •  Note (numbers) •  Note (Fibonacci) •  Kharidian headpiece •  Fake beard •  Desert disguise •  Receipt •  Hag's poison •  Red hot sauce •  Ugthanki dung •  Snake charm •  Snake basket •  Oak blackjack •  Willow blackjack •  Snake basket full •  Super kebab •  Karidian disguise

Locations

Miscellaneous
Community content is available under
CC-BY-SA
unless otherwise noted.