Fire Emblem Warriors: Three Hopes - The Loop
Play Sound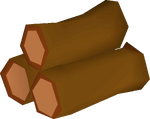 Redwood logs are logs obtained from cutting Redwood trees, which are only found in the Woodcutting Guild and require at least level 90 Woodcutting for players to cut. They give 380 experience when cut with an axe. Players can burn these logs with the Firemaking skill at level 90. They give 350 experience when burned.
Players with 92 Fletching can fletch a redwood shield with a knife and two redwood logs, granting 216 experience. Redwood logs can also be used to fletch 105 arrow shafts.
Redwood can also be used for crafting redwood bird houses and crafting redwood pyre logs for the Shades of Mort'ton minigame. Lastly, they are used for building redwood fences in a player's Superior Garden as part of the Construction skill.
Regular logs

 Logs •  Achey •  Oak •  Willow •  Teak •  Maple •  Mahogany •  Arctic pine •  Yew • Magic •  Redwood

Pyre logs

 Wood •  Oak •  Willow •  Teak •  Arctic •  Maple •  Mahogany •  Yew • Magic •  Redwood

Coloured logs

Other logs

 Bark •  Dream •  Juniper •  Logs and kindling •  Split •  Windswept •  Scrapey tree •  Bruma •  Deadwood
Strings

Logs

 Regular •  Oak •  Willow •  Maple •  Achey •  Yew • Magic •  Redwood

Unstrung bows

| | |
| --- | --- |
| Unstrong shortbows | |
| Unstrung longbows | |

Wooden shields

Arrows

 Arrow shaft •  Feather •  Headless arrow •  Bronze arrowtips •  Iron arrowtips •  Steel arrowtips •  Mithril arrowtips •  Broad arrowheads •  Adamant arrowtips •  Rune arrowtips •  Amethyst arrowtips •  Dragon arrowtips

Javelins

 Javelin shaft •  Bronze javelin heads •  Iron javelin heads •  Steel javelin heads •  Mithril javelin heads •  Adamant javelin heads •  Rune javelin heads •  Amethyst javelin heads •  Dragon javelin heads

Ballistae

 Ballista limbs •  Ballista spring •  Light frame •  Heavy frame •  Monkey tail •  Incomplete light ballista •  Incomplete heavy ballista •  Unstrung light ballista •  Unstrung heavy ballista

Ogre bows

 Ogre arrow shaft •  Flighted ogre arrow •  Wolfbone arrowtips •  Unstrung comp bow

Crossbow stock

 Wooden •  Oak •  Willow •  Teak •  Maple •  Mahogany •  Yew •  Magic

Crossbow limbs

 Bronze •  Blurite •  Iron •  Steel •  Mithril •  Adamantite •  Runite •  Dragon

Unstrung crossbows

 Bronze •  Blurite •  Iron •  Steel •  Mithril •  Adamant •  Runite •  Dragon

Unfinished bolts

 Bronze •  Blurite •  Silver •  Iron •  Steel •  Mithril •  Broad •  Adamant •  Runite •  Dragon

Bolt tips

 Opal •  Jade •  Pearl •  Red topaz •  Sapphire •  Emerald •  Ruby •  Diamond •  Amethyst •  Dragonstone •  Onyx

Dart tips