GTA: The Criminal Enterprises - The Loop
Play Sound
The Reindeer hat is an untradeable cosmetic item. Reindeer hats can be obtained by completing one of the Christmas holiday events that occur once per year. This also rewards the player with all other holiday items associated with Christmas.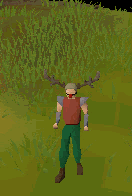 An emote is performed by using the "operate" option on the hat while it is worn. This also spawns a snow pile under the player, which can be picked from, and melts soon after.
It can be stored in the toy box in the costume room of a player-owned house.
Before the 2013 Christmas event, reindeer hats and bunny ears spawned in two out of 100 random locations in every world between 14 and 21 July 2013. When picked up by a player, it would immediately spawn in another location.
Birthday

 War ship •  Gnome child hat •  4th birthday hat •  Birthday balloons •  Prop sword

Easter

 Easter egg •  Rubber chicken •  Easter ring •  Easter basket

Midsummer

 Disk of returning •  Half full wine jug •  Druidic wreath •  Mask of balance •  Hornwood helm •  Hand fan

Hallowe'en

 Pumpkin •  Scythe •  Zombie head •  Jack lantern mask •  Grim reaper hood •  Anti-panties •  Hunting knife •  Jonas mask

Christmas

 Christmas cracker •  Yo-yo •  Wintumber tree •  Reindeer hat •  Snow globe •  Sack of presents •  Giant present

Partyhats

 Yellow •  Green •  Red •  White •  Purple •  Blue •  Black •  Rainbow

Santa hats

 Regular •  Black •  Inverted •  Wise Old Man's

Marionettes

Santa outfit

 Mask •  Jacket •  Pantaloons •  Gloves •  Boots

Antisanta outfit

 Mask •  Jacket •  Pantaloons •  Gloves •  Boots

Snow imp costume

Hats and Scarves

| | |
| --- | --- |
| Hats |  Bobble •  Jester •  Tri-jester •  Woolly |
| Scarves |  Bobble •  Jester •  Tri-jester •  Woolly |

Miscellaneous

 Cabbage cape •  Cruciferous codex •  Rainbow scarf •  Runefest shield

| | |
| --- | --- |
| Cat toys |  Tiger •  Lion •  Snow leopard •  Amur leopard |
| Clue hunter outfit | |
Characters

Shanty Claws • Jack • Jeff • Jill • Gublinch

Rewards

 Reindeer hat •  Wintumber tree

Related items