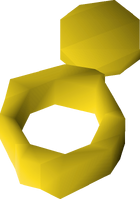 The ring of coins is obtained as a rare master clue scroll reward from Treasure Trails. It can change the model of the player to look like a pile of coins.
While this effect is active, the player cannot move, or it will end. If another player right clicks on the character disguised as coins, the usual options will appear, i.e. "Walk here", "Follow" etc.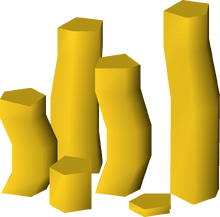 The ring can be and is often used to troll other players in crowded areas such as Grand Exchange, where drop parties are sometimes had even without announcements. Disguising into gold coins is usually accompanied by saying something similar that 3rd party softwares would indicate over a dropped coin stack, creating an impression that there is an actual large stack of coins on the floor. Hasty players would then rush on the player wearing the ring trying to obtain the large stack of cash.
Standard

 Opal •  Gold •  Jade •  Topaz •  Sapphire •  Emerald •  Ruby •  Diamond •  Dragonstone •  Onyx •  Zenyte

Enchanted

 Pursuit •  Returning •  Efaritay's aid •  Recoil •  Dueling •  Forging •  Life •  Wealth (imbued) •  Stone •  Suffering (imbued)

Fremennik

 Archers (imbued) •  Berserker (imbued) •  Seers (imbued) •  Warrior (imbued)

Wilderness

 Treasonous (imbued) •  Tyrannical (imbued) •  Ring of the gods (imbued)

Transformation

Other

 Beacon •  Charos (activated) •  Granite (imbued) •  Lunar •  'Perfect' •  Slayer (eternal) •  Stolen garnet •  Visibility
Community content is available under
CC-BY-SA
unless otherwise noted.