Details
| | |
| --- | --- |
| Start point | Speak to Romeo in Varrock square or Juliet west of Varrock |
| Official difficulty | Novice |
| Description | Romeo and Juliet are desperately in love, but Juliet's father doesn't approve. Help them to find a way to get married and live happily ever after. |
| Length | Short |
| Requirements | None |
| Items required | One bunch of cadava berries. |
| Enemies to defeat | None |
Walkthrough
Talk to Juliet in the top floor of the house directly out of Varrock West gate.
Give Juliet's letter to Romeo.
Talk to Father Lawrence in the church east of Varrock Palace.
Talk to the Apothecary behind the sword shop about the cadava potion.
If you don't already have cadava berries, you can pick them directly west from the south-east Varrock mine. After that return to the Apothecary and talk to him.
Give the potion to Juliet.
Go back to Romeo and tell him to meet Juliet in the crypt.
Quest complete!
Reward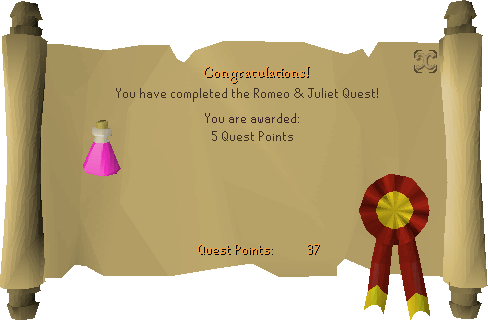 Required for completing