This article is about the barrel of rotten apples. For the individual item, see
Rotten apple
.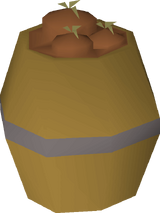 The barrel of Rotten apples is a quest item used in the Mourning's Ends Part I quest. It is obtained by using a barrel on a pile of rotten apples in the orchard south of the Gnome Stronghold and west of Combat Training Camp. The barrel of apples should then be mashed using the press to turn it into an apple barrel. Then it is to be mixed with distilled naphtha to obtain a Naphtha apple mix.
NPCs

Arianwyn • Eluned • Oronwen • Elena • Mourner • Head mourner • Tegid • Gnome • Slave

Items

 Tiny elf crystal •  Teleport crystal •  Sieve •  Tegid's soap •  Tarnished key •  Mourner letter

Mourner outfit
Devices
Swamp toads
Ogre bellows
Books

 Prifddinas' history •  Eastern discovery•  Eastern discovery•  The great divide

Locations

Isafdar • Mourner Headquarters • Mourner Tunnels • Poison Waste • West Ardougne

Music
Miscellaneous
Community content is available under
CC-BY-SA
unless otherwise noted.