Roy jr. is a child found camping in the Kourend Woodland, along with Reginald. He wishes to explore Zeah further west. His father is a knight.
Dialogue
Roy jr.: Hi, I'm Roy jr!
Player: Is that Roy over there then?
Roy jr.: Nope, that's Red, we're on an adventure!
Player: Oh really? Where are you heading?
Roy jr.: To the west, to explore the rest of Zeah.
Player: I've heard it's dangerous over there...
Roy jr.: Well, my dad has gone that way, he's a knight!
Player: I hope you find him, young one. I best be off.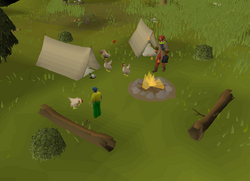 Arceuus House

Arcis • Aretha • Batt Mellamy • Clerris • Dark wizard • Enoch • Freald • Loinur • Look-out • Mofina • Novice • Ouditor • Rassain • • Sister Soul Jar • Tower Mage • Trossa • Tyss

Shop owners

Grand Library

Archeio • Biblia • Galana • Horphis • Logosia • Professor Gracklebone • Sam • Villia • Wizard

Library Archive

Ektheme • Imerominia • Istoria • Krato • Logios • Meleti • Pagida

Hosidius House

Bologa • Butler Jarvis • Chef Olivia • Charlie Brown • Chief Farmer • Clerk • Estate agent • Ewesey • Farmer's wife • Farmer Gricoller • Farmer Hayfield • Father Jean • Gallow • Gruff McScruff • Hopleez • Hosa • Johnathan • Konoo • Lammy Langle • Marisi • Ramocean • Servery assistant • Sandicrahb • Smoggy • Talia • Traxi • Watson

Lord's family

Artur Hosidius • Lord Kandur Hosidius • Elena Hosidius • Pandur Hosidius

Shop owners

Woodcutting Guild

Berry • Forester • Guildmaster Lars • Kai • Murfet • Nesty • Perry

Lovakengj House
Piscarilius House

Billy • Captain Janaway • Captain Khaled • Conrad King • Dock worker • Dockmaster • Fisherman • Nicholas • Patrolman • Patrolwoman • Piliar • Poor looking man • Poor looking woman • Port Official • Port worker • Raeli • Robert O'Reilly • Tomas Lawry • Veos

Shop owners

Travellers

Alexander • Andrea • Charles • Cheryl • Darren • Dobwinkle • Elizabeth • Mark • Melvin • Ross and Ben • Sarah • Simon

The Warrens

Devan Rutter • Fish monger • Lady Shauna Piscarilius • Shop keeper

Shayzien House

Grave digger • Jennifer • Lord Shiro Shayzien • Mogrim • New recruit Tony • Osten • Phileas Rimor • Shayda • Quartermaster Briget • Drill instructor

Captains

Nurses

Soldiers

Other locations

| | |
| --- | --- |
| Kourend Catacombs | |
| Land's End | |
| Other | Cob • Captain Cleive • David Andrews • Knight of Varlamore • Martin Holt • Protesters • Rakkar • Reginald • Roy jr. • Sophia Hughes • Swamp Priest |