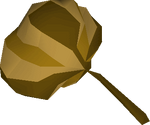 Royal seed pod is rewarded to the player by King Narnode Shareen after completing Monkey Madness II. Like the grand seed pod, this item can be used to teleport the player to the Grand Tree. Unlike the grand seed pod, the royal seed pod is not consumed upon use and never runs out of charges, thus has an infinite amount of charges.
The royal seed pod will allow players to teleport at up to level 30 Wilderness. Along with Slayer ring, dragonstone teleportation jewellery and Pharaoh's sceptre, it is currently the only other available item that works up to level 30 Wilderness.
Additional pods may be purchased from King Narnode Shareen for 2 coins each.
Characters

King Narnode Shareen • Anita • Assistant Lori • Auguste • Garkor • Awowogei • Nieve

Enemies

Kruk • Kob • Keef • Assistant Le Smith • Glough • Maniacal Monkey Archer • Maniacal monkey • Stunted demonic gorilla • Tortured gorilla • Demonic gorilla

Items

 Handkerchief •  Mysterious note •  Book of spyology •  Brush •  Juice-coated brush •  Scrawled note •  Translation book •  Translated note •  Combat scratched key •  Kruk's paw •  Kruk monkey greegree •  Satchel •  Charged onyx •  Deconstructed onyx •  Elysian spirit shield •  Nieve

Rewards

 Royal seed pod •  Monkey
Community content is available under
CC-BY-SA
unless otherwise noted.