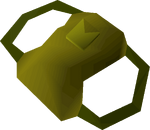 The ruined backpack is dropped by a zombie during the Zogre Flesh Eaters quest, in the caves of Jiggig. It contains items that players use to investigate Brentle Vahn's death. These items are a dragon inn tankard, rotten food and a knife. The tankard is the only item in the backpack that is required for the quest.
The backpack automatically disappears after the player clicks to check what is inside it.
NPCs

Grish • Zavistic Rarve • Sithik Ints • Bartender • Brentle Vahn • Slash Bash • Zombie • Ogre guard • Zogre • Skogre

Items

 Ruined backpack •  Dragon inn tankard •  Torn page •  Black prism •  Strange potion  Cup of tea •  Unstrung comp bow •  Comp ogre bow •  Ogre arrow shaft •  Flighted ogre arrow •  Ogre gate key •  Ogre artefact •  Ogre coffin key •  Rogue's purse potion (unf) •  Relicym's Balm

Books

Sithik Portraits

Locations

Related
Community content is available under
CC-BY-SA
unless otherwise noted.