Rune-Draw is a game of chance similar to blackjack. You must play Rune-Draw against Robin during the Ghosts Ahoy quest. Robin will give you a signed oak longbow to pay off his debt when he owes you 100 coins.
The rules, according to Robin:
"
Two players take turns to draw a rune from a bag, which contains ten runes in total. Each rune has a different value: an air is worth one point, up to a Nature rune which is worth nine points. If a player draws the Death rune then the game is over, and they have lost. A player can choose to hold if they wish and not draw any more runes, but this runs the risk of the other player drawing more runes until they have a greater points total and win.
"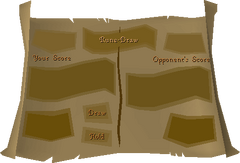 There are 10 different runes in total, nine of which will raise your score. The tenth is a death rune, which will end the game and make the player who draws it lose. The ten runes and their values are displayed below.
Trivia
The numeric value of the runes increases as the level to craft these runes using the Runecrafting skill increases.
It is not possible to play this game after the quest. When a player talks to Robin after the quest, he will ask for another game and the player will reply "You have a serious gambling problem."
NPCs

Velorina • Necrovarus Ghost disciple • Ghost guard • Ghost innkeeper • Metarialus • Ak-Haranu • Robin • Old crone • Old man • Gravingas • Ghost villager • Haricanto • Pirate captain

Enemies

Items

 Ecto-token •  Book of haricanto •  Translation manual •  Ghostspeak amulet (enchanted) •  Model ship •  Chest key •  Signed oak bow •  Bonemeal •  Bucket of slime •  Bedsheet •  Bedsheet (ectoplasm) •  Petition form •  Bone key •  Mystical robes

Tea

 Nettles •  Nettle-water •  Nettle tea •  Nettle tea (milky) •  Cup of tea (nettle) •  Cup of tea (milky nettle) •  Porcelain cup •  Cup of tea (porcelain) •  Cup of tea (milky porcelain)

Treasure map

 Scrap 1 •  Scrap 2 •  Scrap 3 •  Treasure map

Unobtainable

 Puddle of slime

Rewards

 Ectophial

Locations

Music

Related

Quick Guide • Ectofuntus • Rune-Draw
Community content is available under
CC-BY-SA
unless otherwise noted.