Fire Emblem Warriors: Three Hopes - The Loop
Play Sound

Rune claws are a two handed melee weapon. They are the second strongest pair of claws. To wield them, a player must have at least 40 Attack.
Rune claws can be obtained either by using the Smithing skill to make a pair, or trading with another player. The requirements for making them, is completing the Death Plateau quest, along with 98 Smithing. To make them use a rune bar (with another in the inventory) on an anvil, with a hammer in the inventory. This will grant the player 150 Smithing experience.
Combat styles
Special attack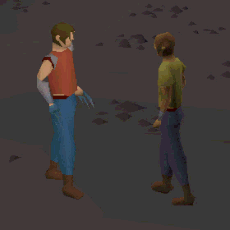 Rune claws have a special attack, Impale, which consumes 25% of the player's special attack energy, and deals 10% increased damage, but increases the time until the next attack by one tick (0.6 seconds), and delays the actual special attack itself by the same amount of time. They are one of two rune metal weapons to have a special attack, the other being the rune throwing axe.
Dropping monsters
| Monster | Combat level | Quantity | Rarity |
| --- | --- | --- | --- |
| Ninja impling | N/A (hunter) | 1 | |
Scimitar

 Bronze •  Iron •  Steel •  Black •  White •  Mithril •  Adamant •  Rune •  Gilded •  Dragon (or)

Longsword

 Bronze •  Iron •  Steel •  Black •  White •  Mithril •  Adamant •  Katana •  Rune •  Granite •  Dragon •  3rd age •  Vesta's

Battleaxe

 Bronze •  Iron •  Steel •  Black •  White •  Mithril •  Adamant •  Rune •  Leaf-bladed •  Dragon

Claws

 Bronze •  Iron •  Steel •  Black •  White •  Mithril •  Adamant •  Rune •  Dragon

Halberd

 Bronze •  Iron •  Steel •  Black •  White •  Mithril •  Adamant •  Rune •  Dragon •  Crystal

Two-handed sword

| | |
| --- | --- |
| Standard |  Bronze •  Iron •  Steel •  Black •  White •  Mithril •  Adamant •  Rune •  Gilded •  Dragon |
| Godswords | |
| Other | |

Quests

 Blurite •  Anger sword •  Anger battleaxe •  Excalibur •  Silverlight •  Darklight •  Wooden spoon •  Skewer •  Cleaver

Castle Wars

Other

 Iron sickle •  Silver sickle (b) •  Starter sword •  Spear •  Harry's cutlass •  Lucky cutlass •  Brine sabre •  Fremennik •  Arclight •  Abyssal whip (volcanic) (frozen) •  Abyssal tentacle •  Scythe of vitur
Weapons

 Dagger •  Axe •  Mace •  Claws •  Sword •  Longsword •  Scimitar •  Spear •  Warhammer •  Battleaxe •  2h sword •  Halberd •  Hasta •  Pickaxe •  Cane

Armour

 Med helm •  Full helmet (t) (g) •  Square shield •  Kiteshield (t) (g) •  Chainbody •  Platebody (t) (g) •  Plateskirt (t) (g) •  Platelegs (t) (g) •  Boots •  Gloves •  Defender

Gilded equipment

| | |
| --- | --- |
| Weapons | |
| Armour |  Full helm •  Platebody •  Platelegs •  Kiteshield •  Boots •  Med helm •  Chainbody •  Plateskirt •  Square shield |

Rune god armour

| | |
| --- | --- |
| Guthix |  Full helm •  Platebody •  Platelegs •  Plateskirt •  Kiteshield |
| Saradomin |  Full helm •  Platebody •  Platelegs •  Plateskirt •  Kiteshield |
| Zamorak |  Full helm •  Platebody •  Platelegs •  Plateskirt •  Kiteshield |
| Bandos |  Full helm •  Platebody •  Platelegs •  Plateskirt •  Kiteshield |
| Armadyl |  Full helm •  Platebody •  Platelegs •  Plateskirt •  Kiteshield |
| Ancient |  Full helm •  Platebody •  Platelegs •  Plateskirt •  Kiteshield |

Rune heraldic armour

Ranged

 Crossbow •  Bolts •  Arrows •  Brutal arrows •  Darts •  Javelins •  Thrownaxe •  Throwing knife

Other

 Bar •  Nails •  Arrowtips •  Javelin heads •  Dart tips •  Unfinished bolts •  Broken axe •  Broken pickaxe