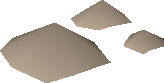 Rune dust can be made by using a hammer or a chisel on a rune essence or pure essence stone to crack them into rune shards, and then grinding these down in a pestle and mortar.
Rune shards and rune dust appear in the Garden of Tranquility quest, when rune dust must be added to a plant cure potion to revive some badly damaged vines in Bernald's garden behind the bar in Burthorpe.
NPCs

Ellamaria • King Roald • Wise Old Man • Dantaera • Brother Althric • Lyra • Kragen • Elstan • Bernald • Billy, a guard of Falador • Bob, another guard of Falador • PKMaster0036 • Charos

Items

 Ring of charos (a) •  List •  Rune shards •  Rune dust •  Plant cure •  Trolley •  White tree fruit •  Compost potion

Seeds

 Delphinium •  Pink orchid •  Pink rose •  Red rose •  Snowdrop •  Vine •  White rose •  White tree shoot •  White tree sapling •  Yellow orchid

Related
Community content is available under
CC-BY-SA
unless otherwise noted.