Fire Emblem Warriors: Three Hopes - The Loop
Play Sound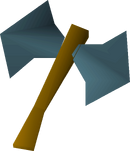 The rune throwing axe, like all throwing axes, is a members-only Ranged throwing weapon and is the second most powerful type of throwing axe, behind the dragon thrownaxe. To wield a rune throwing axe the player must have at least 40 Ranged.
They can be purchased from the Tribal Weapon Salesman at the Ranging Guild.
Special attack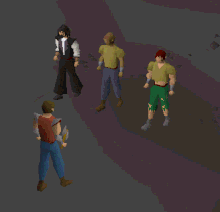 The rune thrownaxe has a special attack, Chainhit, that ricochets off the target and hits multiple other opponents in a multi-combat area. This can target up to 5 opponents.
Each hit consumes 10% of the player's special attack energy. For example: 3 hits consumes 30%, while 5 hits consume 50%.
Many players use this in Waterbirth Island Dungeon as an efficient way of reaching the Dagannoth Kings. This is because with a pet rock and the rune thrownaxe, the player can make their way to the dungeon's sub-levels without a need of a partner. When used on the middle barricade support, the rune thrownaxe's special attack will destroy all three barricade supports without having to have another player attack it from the opposite side.
Combat styles
Trivia
To prevent obsolescence, the special attack of rune throwing axes was introduced some time after their initial release.
Shortbows

 Normal(u) •  Oak(u) •  Willow(u) •  Maple(u) •  Yew(u) •  Magic(u) (i)

Longbows

 Normal(u) •  Oak(u) •  Willow(u) •  Maple(u) •  Yew(u) •  Magic(u)

Composite bows

Special bows

 Training •  Starter •  Cursed goblin •  Ogre •  Seercull •  Craw's •  Dark •  3rd age •  Crystal •  Twisted

Crossbows

 Normal •  Phoenix •  Bronze •  Blurite •  Iron •  Steel •  Mithril •  Dorgeshuun •  Adamant •  Hunters' •  Rune •  Dragon •  Dragon hunter •  Karil's •  Armadyl

Ballistae
Darts

 Bronze •  Iron •  Steel •  Black •  Mithril •  Adamant •  Rune •  Dragon •  Toxic blowpipe

Throwing knife
Throwing axes

 Bronze •  Iron •  Steel •  Mithril •  Adamant •  Rune •  Dragon •  Morrigan's

Chinchompas
Other items

 Arrows •  Bolts •  Cannon •  Cannonball •  Granite cannonball •  Holy water •  Javelins •  Mud pie •  Toktz-xil-ul
Weapons

 Dagger •  Axe •  Mace •  Claws •  Sword •  Longsword •  Scimitar •  Spear •  Warhammer •  Battleaxe •  2h sword •  Halberd •  Hasta •  Pickaxe •  Cane

Armour

 Med helm •  Full helmet (t) (g) •  Square shield •  Kiteshield (t) (g) •  Chainbody •  Platebody (t) (g) •  Plateskirt (t) (g) •  Platelegs (t) (g) •  Boots •  Gloves •  Defender

Gilded equipment

| | |
| --- | --- |
| Weapons | |
| Armour |  Full helm •  Platebody •  Platelegs •  Kiteshield •  Boots •  Med helm •  Chainbody •  Plateskirt •  Square shield |

Rune god armour

| | |
| --- | --- |
| Guthix |  Full helm •  Platebody •  Platelegs •  Plateskirt •  Kiteshield |
| Saradomin |  Full helm •  Platebody •  Platelegs •  Plateskirt •  Kiteshield |
| Zamorak |  Full helm •  Platebody •  Platelegs •  Plateskirt •  Kiteshield |
| Bandos |  Full helm •  Platebody •  Platelegs •  Plateskirt •  Kiteshield |
| Armadyl |  Full helm •  Platebody •  Platelegs •  Plateskirt •  Kiteshield |
| Ancient |  Full helm •  Platebody •  Platelegs •  Plateskirt •  Kiteshield |

Rune heraldic armour

Ranged

 Crossbow •  Bolts •  Arrows •  Brutal arrows •  Darts •  Javelins •  Thrownaxe •  Throwing knife

Other

 Bar •  Nails •  Arrowtips •  Javelin heads •  Dart tips •  Unfinished bolts •  Broken axe •  Broken pickaxe