Sailing was a spoof skill added for the 2014 April Fools event. It supposedly allowed players to create sailing boats to use to sail to uncharted islands.
The maximum Sailing level obtainable was level 20. If you got more than 5,000 experience in the skill, it would reset you to level 1 with the chatbox message "### CRITICAL ERROR: %sailing_xp memory overflow, resetting to safe state.".
Training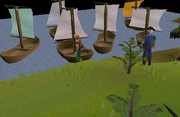 Players could begin gaining experience after speaking to Captain Emmemji, who explains who he is and how the skill works: Simply by using one of the boats. Players can only take three types of boats:
The small boat at level 1, which grants 100 experience per use.
The long boat at level 5, which grants 180 experience per use.
The wide boat at level 12, which grants 240 experience per use.

There was a single island to travel to, which was supposedly part of the Eastern Lands. The following NPCs could be seen on the journey, but not interacted with:
Poll

Sailing was proposed as a real skill to players in August of 2015 in a Dev Blog. The skill was to consist of three main activities: ship building, navigation, and exploration, and was said to be available to free-to-play.[1]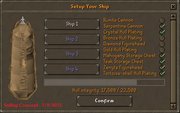 The details of the skill were expanded upon further by three development blogs and a trailer in August and September 2015. Examples included creating ships using different logs at various ports such as Port Sarim and Port Khazard, outfitting those ships with cannons of different tiers of metals, using those cannons in player-versus-player combat similar to the Wilderness, and exploring new islands which could only be reached with the Sailing skill.[1]
This proposal was concluded with a poll in which players were asked to vote for or against inclusion of a new Sailing skill. The poll ran from 10 September to 16 September 2015, resulting in a 68% Yes to 32% No vote.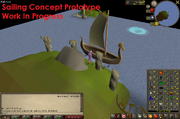 Following the results of the poll, many of its advertised features, rewards, and locales were added separately in other updates. These include:
Concept art
References
Support

Gathering

 Woodcutting •  Mining •  Fishing •  Hunter •  Farming

Combat

 Attack •  Strength •  Hitpoints •  Defence •  Magic •  Ranged •  Prayer

Artisan

 Firemaking •  Fletching •  Cooking •  Smithing •  Runecrafting •  Crafting •  Herblore •  Construction
Community content is available under
CC-BY-SA
unless otherwise noted.