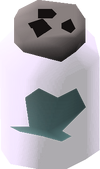 A sapphire glacialis is a members-only item that players can use on another player to boost the other player's Defence level. They are caught in the Rellekka Hunter area. The right-click option "Release" would release the butterfly from the jar, but this does not affect any player's stats.
Members can make this item by catching a sapphire glacialis using a (magic) butterfly net, whilst they have a butterfly jar in their inventory. They need level 25 Hunter to do so, and gain 34 experience points for every sapphire glacialis they catch.
Boss drops

 Dirt •  Sand •  Swamp •  Souls •  Miasma •  Darkness •  Stone •  Decay

Butterfly jars

 Empty •  Ruby harvest •  Sapphire glacialis •  Snowy knight •  Black warlock

Impling jars

 Empty •  Baby •  Young •  Gourmet •  Earth •  Essence •  Eclectic •  Nature •  Magpie •  Ninja •  Dragon •  Lucky

Other

 Bell •  Canopic •  Ethereal fluid •  Honey •  Jam •  Maple syrup •  Specimen •  Sweet herb •  Treacle
Community content is available under
CC-BY-SA
unless otherwise noted.