Raise a Floppa - The Loop
Play Sound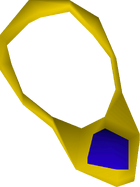 The sapphire necklace is made by using a gold bar, a sapphire and a necklace mould on a furnace. This requires a Crafting level of 22 and gives 55 experience when made.
Grum's Gold Exchange in Port Sarim buys at the same price as High Alchemy, depending on his current stock. For example, if he has no sapphire necklaces for sale, he will buy the first for 714 coins. However, this price decreases in relation the amount he has in stock.
Members may cast Lvl-1 Enchant on a sapphire necklace to turn it into a games necklace. This requires 7 Magic, one cosmic rune and one water rune, and grants 17.5 Magic experience.
Crafted

 Gold •  Opal •  Sapphire •  Jade •  Emerald •  Topaz •  Ruby •  Diamond  Dragonstone •  Onyx •  Zenyte

Enchanted

 Dodgy •  Games •  Passage •  Binding •  Faith •  Digsite •  Phoenix •  Skills •  Berserker •  Anguish (or)

Other

 Brass •  Clean •  Occult (or) •  'perfect' •  Silver •  Stolen family heirloom