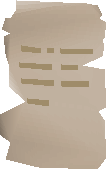 The scrap paper is a quest item used in the King's Ransom quest. To obtain it the player must search the dining room in the Sinclair Mansion near Catherby. It must then be taken to the guard at the mansion along with an address form and a black knight helm in order to convince the guard that further investigation is required.
Transcript
Meet at Camel
We'll storm
She'll ensure w
The servants
silence.
NPCs

Gossip • Anna • Pierre • Hobbes • Louisa • Mary • Donovan • Stanford • Judge • Prosecutor • David • Morgan Le Faye • Merlin • Wizard Cromperty • Alan • Renegade Knight

Guards

Knights of the Round Table

King Arthur • Sir Bedivere • Sir Gawain • Sir Kay • Sir Lancelot • Sir Lucan • Sir Palomedes • Sir Pelleas • Sir Tristram

Items

 Scrap paper •  Address form •  Black knight helm •  Holy grail •  Animate rock scroll •  Criminal's thread •  Hair clip

Rewards

 Antique lamp

Locations

Keep Le Faye • Black Knights' Fortress • Seers' Village Courthouse

Music

Related
Community content is available under
CC-BY-SA
unless otherwise noted.