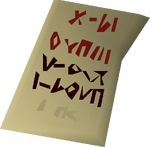 The scrawled note is an item obtained while searching the crate in Ungadulu's cave during Legends Quest. It reads:
"
Daily notes of Ungadulu ... Day 1 ... I have prepared the incantations and will invoke the spirits of my ancestors and pay them homage. Though I feel a strange presence in these caves, it is with the heart of the lion that I fight my fears and mark the magical octagram.

Day 2 ... What have I done? My spirit is overthrown by feelings of fear and evil, I am not myself these days and feel helpless and weak. From my teachings ...

"
See also
NPCs

Legends guard • Radimus Erkle • Jungle forester • Gujuo • Ungadulu

Enemies

Nezikchened • Ranalph Devere • Irvig Senay • San Tojalon • Viyeldi

Items

 Bull roarer •  Sketch •  Blessed gold bowl •  Holy water •  Binding book •  Yommi tree seeds •  Bravery potion •  Dark dagger •  Glowing dagger •  Holy force

Notes

 Radimus notes •  Scrawled note •  A scribbled note •  Scrumpled note

Crystals

Related
Community content is available under
CC-BY-SA
unless otherwise noted.